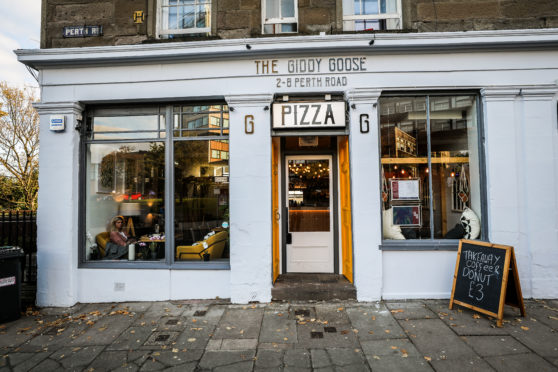 A Dundee restaurant owner has claimed Deliveroo is taking advantage of businesses during the coronavirus crisis.
Lauren Runciman, owner of Giddy Goose, said she has decided to dump the third party app after it hiked its commission rate to a massive 60%.
Deliveroo has denied the claims and say there has been a "misunderstanding".
The multinational company usually takes around a third of order totals for home deliveries but the shock bill, covering the last two weeks, left the business struggling to make ends meet.
It came at around the same time unprecedented lockdown measures were announced by the UK and Scottish Governments.
Ms Runciman, 22, who opened the Perth Road eatery with her partner in 2018, said: "Usually it's around 35%, which is really high anyway, but this latest cut was crazy.
"We couldn't believe it. It was actually costing us money to be on the app.
"While we are trying to sustain our business. these big companies are rubbing their hands together at the thought of making even more money than they usually do."
Deliveroo has in the past said research shows partnering with the company can increase restaurant turnover by up to 30%.
But accountants Price Bailey and Moore Stephens recently pinpointed the rise in takeaway delivery apps as one of the main reasons for an increase in the number of businesses going under.
Ms Runciman, who also owns the White Goose on Dock Street, asked people to consider supporting local businesses directly.
She said: "I know why people use the apps of course, I do it myself sometimes without even thinking.
"But I would ask people to think about going direct and keep money local rather than going to a big business based elsewhere.
"Usually it's the same price or cheaper to do it and businesses can do things like waive the delivery fee.
"We are still waiting to hear back from Deliveroo about why they have taken so much from our customer orders.
"It's confusing the way they calculate the commission each time but it has never been as high before.
"You would hope big companies would be doing everything they can to help in times like this."
A spokesperson for Deliveroo said: "We can confirm there has been no increase in commission.
"We are trying to contact the business to clarify what appears to be a misunderstanding."