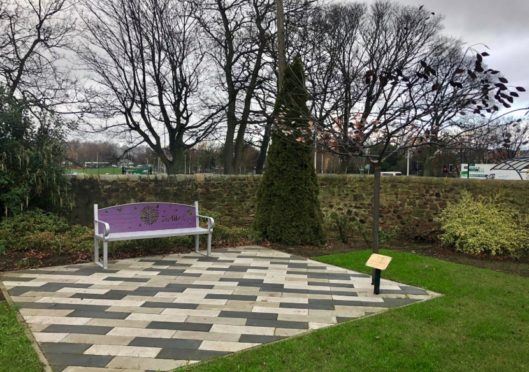 A copper sculpture of a tree designed to serve as a memorial to babies who have died will be unveiled in Dundee Botanic Gardens this weekend.
Each leaf on the life-sized sculpture is engraved with a personal message from the parents of a baby who had died in the womb or shortly after birth.
The unveiling of the Tayside Tree of Tranquility on Sunday will be marked with a butterfly release, a family-friendly, non-religious ceremony.
The trees are created by the SiMBA.
Funds for the Tayside tree have been raised by maternity staff at NHS Tayside, Dundee University Botanic Gardens, members of Unison's Tayside health branch and the charity Tayside Sands, the stillbirth and neonatal death charity.
Couple Paul and Dawn Louise Harris, whose daughter Rae was stillborn at Ninewells Hospital just before Christmas last year, have also helped raise thousands of pounds for the tree..
Senior charge midwife Jane Tracey said: "Part of my individual role involves caring for and supporting bereaved parents and their families.
"Ninewells Labour Suite is fortunate to have an excellent facility, The Tulip Room, to provide this care. However, we are always looking for ways in which we can improve the care we provide.
"I first became aware of the Tree of Tranquillity  in 2017 and decided to begin fund raising on my return.
"NHS Tayside's donation towards the tree has been from local fundraising by maternity staff and from very generous donations from families suffering the loss of their baby.
"I was overwhelmed by the positivity I received from bereaved parents when discussing the Tree with them.
"The Dundee Botanical Gardens were very accommodating when I approached them as a suitable site for the Tree to be located, and provides a beautiful setting for families visiting the Tree.
"The Tree of Tranquillity will undoubtedly provide bereaved parents in Tayside a beautiful memorial set in peaceful surroundings in which they can spend time remembering their baby."
Parents who lose a baby can request to have a lead engraved with their personal message. The leaf is then added to the tree which then "grows" over time.
A SiMBA spokeswoman said: "The Tree of Tranquillity is not just for the newly bereaved but also parents who sadly lost their baby years ago and were perhaps provided with little or no recognition of their baby's existence."