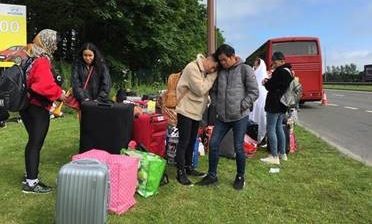 The opening night of a popular stage show in Dundee faced near disaster after a tour bus carrying performers and hundreds of costumes broke down just hours before start time.
Tour organisers for the Lady Boys of Bangkok issued a desperate plea for help after the cast of 22 became stuck on the A19 north of Middlesbrough on Friday with a journey of more than 200 miles still to be completed.
Around 450 costumes were also set to be transported to the opening night performance in Dundee's Baxter Park, and desperate bosses considered hiring a fleet of taxis to transport the show to the City of Discovery.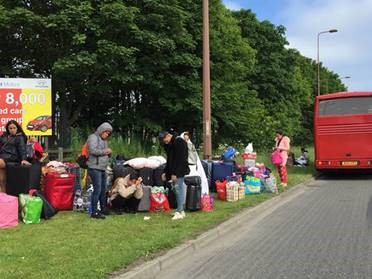 Traffic enforcement officers arrived on the scene shortly before 9am and closed off one lane of the busy A19 while a tow truck was called to recover the vehicle.
Tour promoter Binky Beaumont said his team had contacted dozens of local coach companies to arrange a replacement service and were finally able to secure bus travel for the crew at around 11am.
He said: "It's unbelievable what's happened here. We were in Bristol last week and we've had 10 weeks of theatre shows while everything moves up to Dundee.
"At 8.15am, I got a call to say the clutch had gone on the coach. The police came, put the cones up and told the cast they should get out of the coach. So you have the whole cast of 22 and a dwarf sitting outside a Hyundai garage in Peterlee.
"We must have rang around 60 or 70 coach companies in the area but couldn't get one sorted. Eventually a company told us they could help us out, after they get finished with the school run.
"An hour before we were looking at getting taxis to take the whole crew to Dundee but as always, the show will go on!"