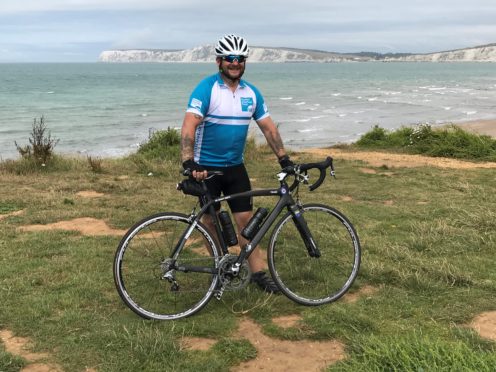 A charity fundraiser is set to be saddle sore as he seeks to cycle around the UK for 50 days in his sister's memory.
Kenny Smith is to cycle 2,655 miles around mainland Britain starting from Chichester on June 12 and travelled through Dundee on Sunday before leaving on Tuesday.
His epic trek is in memory of his sister Kathleen who died in 2014 from Multiple Sclerosis
It will end on what would have been her 50th birthday on July 31 back where it started in Chichester, where he lives.
He is riding solo, unsupported and carrying everything he needs for the 50-day ride which is in aid of the MS Trust.
He said: "My sister Kathleen was diagnosed with MS back in in 1990, aged just 21.
"She coped well for many years living with MS and never let it get her down; she was always smiling and never complained."
"This is the biggest challenge I have ever undertaken physically, emotionally and mentally.
"I'm living and breathing this ride every minute of every day.
"I wanted to take this on because the MS Trust is a fantastic charity that really goes above and beyond to help those living with and those affected by MS.
"It's a relatively small UK charity doing a massive job, and I've witnessed first-hand the difference they make for not only those living with MS, but also the help, advice and support they give to families too."
Over the years Kenny has taken on all manner of incredible feats to raise funds for the MS Trust after Kathleen's death in 2014.
He has run marathons, climbed Mount Everest and Mount Kilimanjaro, jumped out of planes, held collections, cake stalls and car boot sales.
Kelly Boston, community fundraiser at the MS Trust, said: "We are so grateful to Kenny for taking on such an incredible challenge in aid of the MS Trust.
"He's a true hero and the money raised will make such a difference for people living with MS today.
"We know his sister Kathleen would have been very proud."
To find out more about Kenny's challenge and how donations can be made to it visit 50dayscycleride.uk.