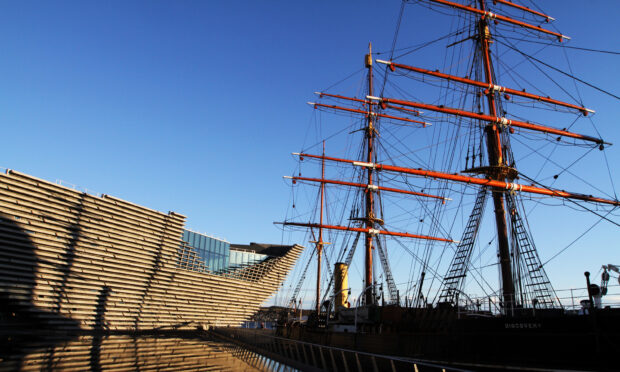 The organisation behind two of Dundee's most popular attractions has announced a "V&A boost' will allow them to introduce higher wages for staff.
Dundee Heritage Trust (DHT) runs Discovery Point and Verdant Works and has announced it will now pay all employees at least the Real Living Wage — currently £9 per hour.
The news comes as V&A Dundee is to celebrate its first year anniversary this weekend with a series of special events.
It has so far surpassed all estimates for visitor numbers and is expected to announce full-year numbers on Sunday.
Discovery Point tells the incredible tale of Captain Scott's journey to Antarctica on board the Dundee-built ship in 1901.
Verdant Works, described by travel guide book Lonely Planet as one of the "finest industrial museums in Europe", tells the story of the city's time as the world capital for jute.
Deirdre Robertson, chief executive officer for Dundee Heritage Trust said there has been a "substantial increase" in visitor numbers over the past 18 months.
She added the increase "peaked" in the months following the opening of the V&A.
"The increase has not only been via paying visitors to our museums, but also an increase in footfall to our free exhibitions, gift shops and restaurants.
"This increase in visitor numbers is largely due to the V&A effect and we would like to thank our neighbours for putting Dundee firmly on the international map.
"The uplift has taken DHT from an underlying loss-making position to our first trading profit in several years.
"As an organisation that is 96% funded from our own operations and fundraising activities, we are knowingly taking on real operational challenges implementing the significant cost of real living wage.
"However, we feel it's the right thing to do for our loyal staff. We are proud to be able to contribute to the efforts by Dundee City Council and other organisations to make Dundee a Living Wage City."
The news comes just six months after it was revealed the number of people visiting Discovery Point jumped 42% in 2018 compared to 2017.
A total of 64,627 paid to enter the attraction. Verdant Works also saw visitors increase from 16,477 to 19,993 over the same period.
Dundee City Council leader John Alexander, added: "I'm delighted that the Dundee Heritage Trust is making this commitment and paying the real Living Wage.
"Dundee is currently enjoying a boom time for tourism. V&A Dundee has now been open a year and has helped boost the city's international reputation as a centre for creativity and culture."