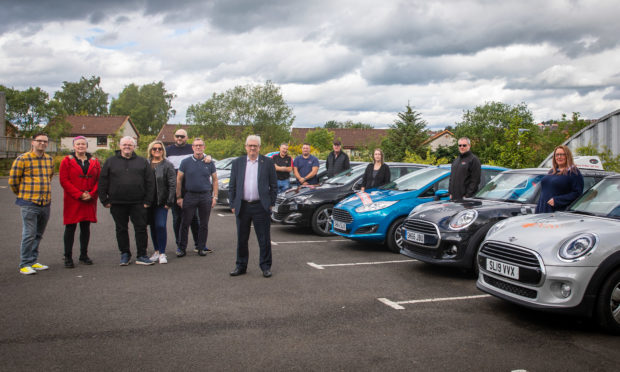 Learner drivers will be able to continue sitting their tests in Dunfermline after the Vine Conference Centre was named as the town's long term base.
The news comes after months of uncertainty for learners, instructors and examiners following the closure of the former test centre at Pitreavie.
Initially, driving tests were run out of the Vine Centre on a temporary basis three times a week, but now the Driver and Vehicle Standards Agency (DVSA) has committed to using the venue long term.
Peter Hearn, the agency's director of operations (north) revealed the move in a letter to local MP Douglas Chapman.
"We have worked hard to retain a testing service in Dunfermline and use of the Vine will allow us to provide continuity for candidates, instructors and staff," he wrote.
The service will still be run on Mondays, Tuesdays and Wednesdays and will offer more than 60 test slots a week.
During August local examiners ran 16 out-of-hours tests in order to reduce delays.
Mr Hearn said there had been no cancelled or rescheduled tests.
"Practical car test waiting times at Dunfermline are reducing, however, we will continue to monitor the situation," he said.
The Vine has given its draft agreement and now planning approval is being sought.
The news has been welcomed by Mr Chapman who set up a petition to retain a local service.
He said he would continue to monitor whether three days is enough and will be seeking assurances on waiting times, which have been as high as eight weeks.
"I am delighted to hear that Dunfermline will have a long term home for its driving test centre," the Dunfermline and West Fife SNP MP said.
"I hope this will eventually become its permanent home and we can return to running a service five days a week, which the original centre at Pitreavie offered.
"This brings some certainty to instructors, who were fearing the worst, that the service could move to Kirkcaldy and Dunfermline would be without a service."
Mr Chapman added: "I cannot thank the Vine Conference Centre enough for the generosity and patience they have shown throughout this process, without them Dunfermline probably would be without a driving test centre."