Interactive map shows sale price of each Oor Wullie in Dundee, Perth and Fife at BIG bucket trail auction
By
Scott Milne
September 17 2019, 11.51am
Updated: September 17 2019, 11.57am
The deep pockets of people in Tayside raise hundreds of thousands to help sick children in Courier Country.
The culmination of the Oor Wullie Big Bucket Trail took place last night with a ceremony at Dundee Rep, where the distinctive statues were auctioned off.
A total of £239,000 was raised on the night for the Archie Foundation.
The interactive map below shows where each Oor Wullie was displayed in Dundee, Perth and Fife, and how much they were sold for at the auction.
The highest grossing statue was Full o'Beans, which was housed at Discovery Point over the summer. It went for an impressive £16,000, causing rapturous applause in the room.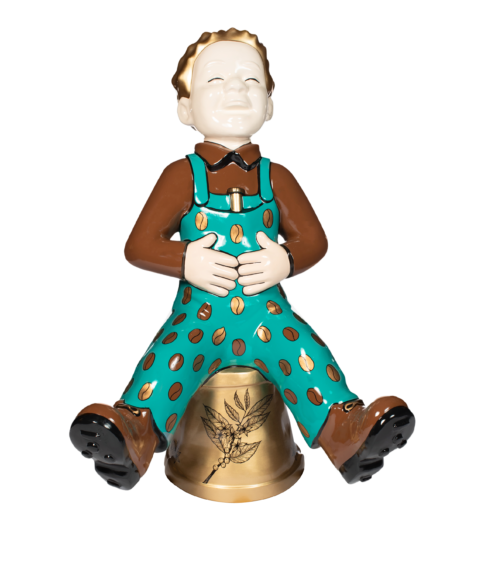 Oor Doddie, Wullie's Big Night at the Theatre and Oor Freddie also went for more than £10,000 each.
Yeehaw Wullie, which was voted the most popular statue through the Bucket Trail app, went for £7,000.
Oor Wullie's BIG Bucket Trail raises £239,000 for Archie Foundation after Dundee auction
In a surprise ending to the bidding, five buckets – without Wullie – were put under the hammer, adding a collective £6,600 to the pot.
A unique Oor Wullie portrait went for £1,100 to bring the auction proceedings to an end.
Music from Scott Gilmour and Claire McKenzie opened and closed the night, performing songs from the upcoming show Oor Wullie: The Musical.
An emotional introduction by Emily Findlay BEM followed the first song.
Emily, who recently joined the Archie Foundation as fundraising officer, told the crowd how the charity helped her through her and her family through her cancer treatment, aged 14, and her two subsequent relapses.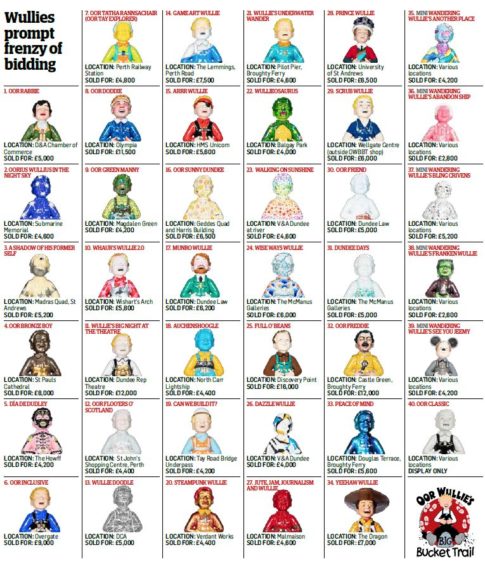 This year's Bucket Trail was the first of its kind to take place across Scotland, and similar auctions will take place in Glasgow and Edinburgh later this week, raising money for children charities there.
The Aberdeen and Inverness statues will go under the hammer tonight at an auction in Inverurie.
David Wood, Archie Foundation chief executive, was delighted with the amount raised .
He said: "It's wonderful and the support we have had from the people of Dundee has been immense.
"They have been very generous again and it makes a huge difference to childrens' lives.
"It's good to get it off in such a great way. The amount we managed to raise will just increase throughout the week."
In the last three years, Tayside has raised over £1.5 million in similar auctions.
In 2016, £883,000 was raised when the first Oor Wullie Bucket Trail auction took place, also at Dundee Rep.
In 2018, £540,000 was raised for Maggies with the penguin statues and also last year, £239,000 was raised at the Spring Ball. That night, the then last Oor Wiullie statue was sold.
This year's Bucket Trail had less statues than previous years
Mr Wood was appreciative that people still raised hundreds of thousands even after similar events in recent years.
He added: "We appreciate that there was an auction in 2016 and for Maggies last year, but there is still the support out there. We wouldn't have raised as much as we have without that support."