'Learn to speak proper…' – Dundee poet's incredible tribute to city's dialect goes viral
By
Blair Dingwall
September 18 2019, 1.27pm
Updated: September 18 2019, 1.35pm
A Dundee writer's incredible tribute to his native dialect has gone viral on social media.
Oary street poet Gary Robertson posted a video of his latest work "Mick McCluskey's Oary Topia" to Facebook on Sunday and it has since been shared hundreds of times.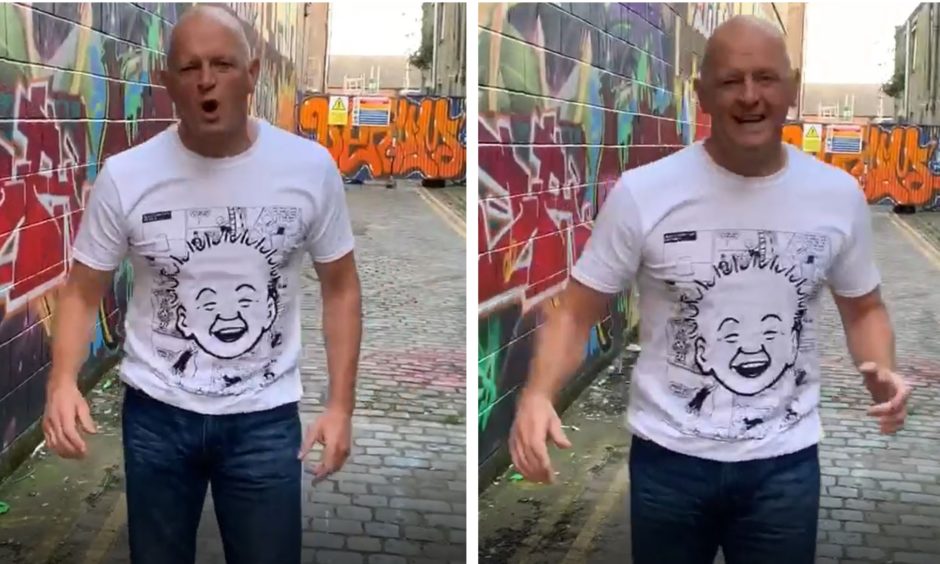 The video – which is three minutes long – follows the Fintry writer as he walks past the graffitied walls of Mary Ann Lane, impressively rattling through a huge list of local words.
The spoken word paean is from the perspective of a youngster being told to "speak proper" by an adult after being "headered"; with the boy retorting with an Oary diatribe.
Ok folks, here it is – probably the BEST celebration o the Oary Dundee dialect ivir 😂 Ma finest work in ah itz ra' an undiluted glory 'Mick McCluskey's Oary Topia' #DundeeStreetPoetry ✊🏼🏴󠁧󠁢󠁳󠁣󠁴󠁿⚒ An a massive thanx tih abdee wahz voted fir is in the forthcomin Scots Language Awards (Best Performer category). If yid like tih geeza wee vote click on the VOTE NOO link at www.scotslanguageawards.com Keep smilin, Keep It Oary an thanx ❤️🏴󠁧󠁢󠁳󠁣󠁴󠁿 #Dundee

Posted by Gary Robertson on Sunday, 15 September 2019
Mr Robertson, 52, said the poem is inspired by a story told by Dundee author Mick McCluskey, who was punished by a teacher for using Oary words at a city school after getting into a fight.
Speaking in the video, Mr Robertson said: "Now that is a celebration of the Dundee dialect and a' it's ra' glory. Be proud of the dialect. Keep it Oary."
He added the poem is "my finest work in ah its raw and undiluted glory".
'I am proud of where I am from': Meet the Dundonians kick-starting a street poetry comeback in the city
Mr Robertson, who is also a musician, is currently a nominee for the Scots Performer o' the Year gong at the inaugural Scots Language Awards.
One of the original "Dundee street poets", he has written hit Dundee Rep plays The Middle O' Nowhere: A Bothy Haunting, The Scaffies and The Berries.
The Dundonian cut his literary teeth writing poetry alongside pals Mark Thomson and Kevin McCabe after the trio met at a writing group called Hilltown Horizons in the early 2000s.
The group went on to form Tribal Tongues and their brand of poetry – written in Oary – took the Scottish spoken-word scene by storm.
Dundee street poetry has recently been enjoying a resurgence thanks to local spoken word performers Gemma Johnston and Mark Richardson.
To vote for Mr Robertson in the Scots Language Awards click here.