Dundee was turned all the colours of the rainbow on Saturday as thousands of people turned out for the city's second Pride march.
Marchers began gathering at the Steeple Church from 10am, two hours before the march set off to Slessor Gardens, creating a carnival atmosphere in the city centre.
Once the marchers set off at noon, it took three quarters of an hour for the entire procession to make its way down to Slessor Gardens.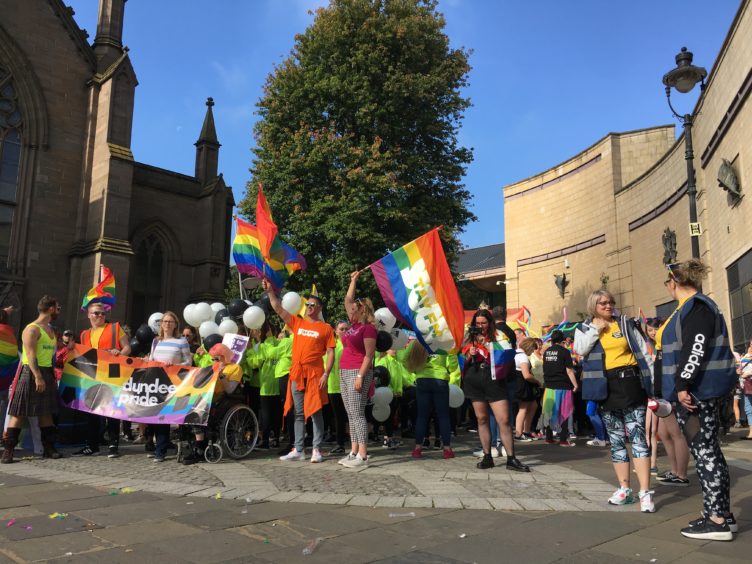 Hundreds of onlookers watched as the marchers, many in colourful costume and holding up homemade placards, walked by.
Leading the march were Scottish Government cabinet secretary for social security and older people Shirley-Anne Somerville, who also has responsibility for equalities, and Kilted Yoga star Finlay Wilson.
Ms Somerville said: "It is an amazing turnout and such a great atmosphere, from the people on the march and the people cheering them on.
"Pride marches are going from strength to strength and I think that shows a real determination that we are proud of everyone."
Mr Wilson said: "Last year I missed the first Pride so it is great to be here today.
"There is an amazing number of people. Dundee is small enough so you see a lot of people you recognise.
"There is also a lost of business support. That's been really exciting to see all these companies turning out."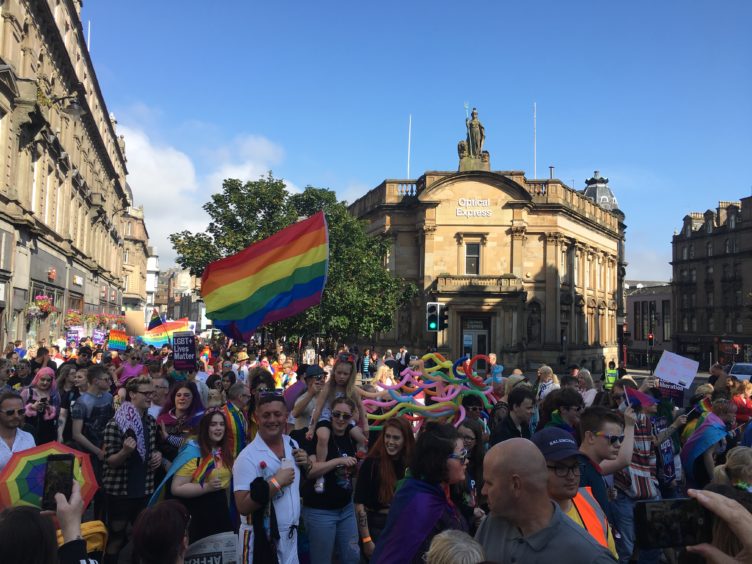 Dundee City Council equalities spokeswoman Lynne Short was also at the front of the march.
She said: "I grew up in black and white Dundee and today shows how far we have come."
But she said although a celebration, Pride is also important in fighting for the rights of the LGBTQ+ community.
She said: "I got the bus down and someone saw my outfit and booed. I didn't see who it was but reported it to the driver because homophobia is a crime.
"That's why we have Pride. If we don't look after the equalities we fought for then they can slip back."
At Slessor Gardens, there were around 40 different stalls selling everything from food to merchandise.
There was also entertainment schedule for the afternoon from dance group N-Trance and Allan Jay.