Three adventurers have honoured their hill-walking companion who died in a tragic accident by completing the 235-mile Stevenson Way and raising more than £7,000 for CHAS in his memory.
Douglas Walker, a long time supporter of the children's hospice charity, was killed when he was hit by a Royal Mail van in his home town Dunfermline in February.
His hiking buddies completed the route inspired by Robert Louis Stevenson's classic Kidnapped in just a week.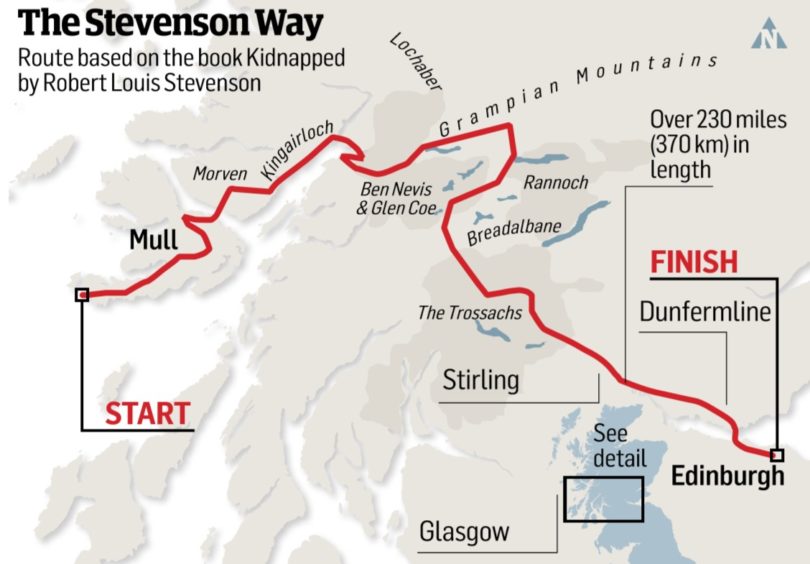 Stuart Kennedy, 35, from Dunfermline, 37-year-old Neil Winstanley from Ayr and Witold Gawlikowicz, 30, from Edinburgh, averaged a marathon and a half each day and ascended the equivalent of Mount Everest as they trudged to the finish line in aid of CHAS.
The group battled blisters, "brutal" weather and food poisoning on their epic adventure from Mull to Edinburgh and reached the end with more than £7,000 in the bank.
Neil said: "Dougie was a very good mate of mine. We met on a hillside by Loch Lomond and stayed in touch, and began going hill-walking together with a bigger group.
"We were chatting at the start of the year about doing a fundraising challenge. He'd done stuff for CHAS and I used to do a lot for the Ayrshire Hospice. Having spoke to Dougie, the Stevenson Way looked like a goer."
Dougie's death could have signalled the end of road for their charity exploit, but his other friends came forward to make sure the 45-year-old's legacy lived on.
"Dougie's death was a really traumatic experience for everyone who was close to him," added Neil.
"I thought we'd have to shelve the Stevenson Way plans, but two other guys, Stu and Witold, said they would be keen to do it.
"A couple of our pals came to join us for sections and even brought us some whisky.
"We camped out at Limekilns and crossed the bridge to South Queensferry on our last day. It was surreal to finish, after days in the mountains and moors, on Corstorphine Road in Edinburgh surrounded by traffic and fumes."
The group were piped over the finish line and presented with medals before going for a hard earned beer.
They said the huge total they raised was testament to Dougie's popularity.
Neil said: "I'm really chuffed, I can't believe how much money we raised.
"He was a magnetic guy, there were around 300 people at his funeral."