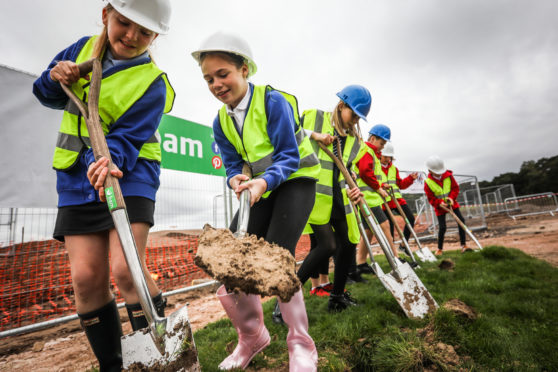 Construction of St Andrews' £50 million new secondary school is already bringing benefits to Fife and the surrounding area, it has been claimed.
With more than a year to go before pupils move into the replacement Madras College the project is bringing jobs and training for local people.
Builder BAM Construction was given targets for community benefit when it was awarded the contract and is making progress towards meeting them.
Liberal Democrat councillors for St Andrews and the Tay Bridgehead ward, whose pupils will attend the school, welcomed the benefits.
Seven jobs have been awarded under the National Skills Academy for Construction on-the-job training programme and two work placements have been awarded to trainee engineers studying at Dundee University and employed by Dundee-based Kilmac.
Several members of the workforce have also been trained and awarded qualifications since the project began.
Under the Procurement Reform Act 2014 local authorities must seek community benefits from schemes over £4m in value.
St Andrews councillor Jane Ann Liston said: "After so many years of frustrating delay it is good to see that the people of the Madras catchment area will see tangible benefits over and above the excellent new school now taking shape.
"I look forward to seeing the benefits being delivered."
Jonny Tepp, for Tay Bridgehead, said: "We are all really excited to see the new Madras College progressing, but many will not be aware that as part of the deal with the contractor BAM Construction a number of community benefit targets were agreed.
"A number of targets were set with regards to work placements, job creation, training, and a proportion of the work was to be delivered by local SMEs (small to medium enterprises) and we have requested an update about progress to date with meeting the community benefit targets that were set."
Fellow Tay Bridgehead councillor Tim Brett said: "It is important that where substantial contracts are entered into that the council ensures that the local workforce and population benefit during the construction phase as well as from the final finished product."
Work began at the end of last summer and the long-awaited school is due to be complete next year.
Claire Anderson, BAM education and community co-ordinator, said: "We are looking forward to continuing to work with Fife Council, hub East Central, the existing Madras College and feeder primary schools and the local community to deliver community benefits across the Madras project."