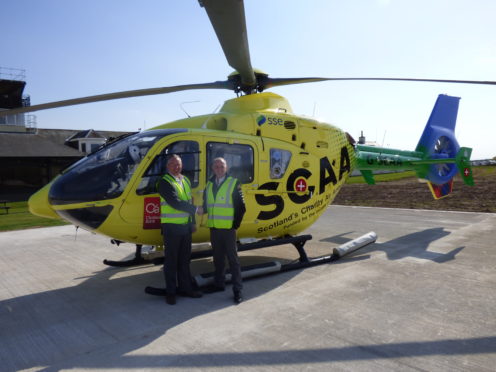 Knockhill Racing Circuit has shifted into top gear as it roars ahead with its fundraising support for Scotland's Charity Air Ambulance (SCAA).
The popular Fife motorsports centre, which attracts around 175,000 visitors each year, has already surpassed its £5,000 fundraising target through its online point-of-sale optional donation scheme.
It is now looking ahead to another bumper season of events and charity support.
Stuart Gray, director of events at Knockhill, said £5,500 had already been raised online for the Perth-based air ambulance team.
"We have been supporting SCAA in kind for several years with promotional material in our events programmes, stands and bucket collections at events and ticket and memorabilia donations for fundraising events," he said.
"Eighteen months ago we introduced optional giving at checkout on our website and set a £5,000 target.
"We have now raised more than £5,500 which is fantastic."
This weekend marks the start of the 2020 events activity at the Scottish Bike Show at Ingliston, where Knockhill has a stage.
Stuart said the air ambulance was a cause that was close to many motorsports fans' hearts.
"SCAA is a vital life-saving service which has been called to the aid of motorcyclists and drivers on hundreds of occasions," explained Stuart.
"One of our own employees was airlifted by SCAA following a horrendous accident on the A9 two years ago – the speed he was airlifted to hospital care undoubtedly saved his life.
"None of us knows when we might need the services of this amazing air ambulance charity and Knockhill Racing Circuit is proud to be supporting their life-saving work all across Scotland."
Nick Harvey, director of fundraising and communications at SCAA, said the charity was "hugely grateful" for Knockhill and the racing community's ongoing support.
"SCAA relies entirely on public donations and Knockhill's fundraising will literally help save lives," he said.
"Drivers and motorcyclists understand the vital role an air ambulance plays when things go horribly wrong on our roads and their support will help ensure SCAA is there for those most in need anywhere in Scotland.
'We are extremely grateful to Knockhill – the home of Scottish motorsport – for their generous ongoing support."
Knockhill's stage at Ingliston on Saturday and Sunday will include interviews with John McGuinness, Dougie Lampkin and Niall MacKenzie.