Protestors frustrated at the impact a Fife petrochemical plant is having on people's lives staged a socially distanced demonstration on Saturday – making it perfectly clear that their patience with the site operators has run out.
Local residents gathered at Mossmorran near Cowdenbeath and formed a human chain across the entrance to the ExxonMobil and Shell site as they called for the facility to be shut down.
Saturday's protest – which was mirrored by a similar demo outside the Scottish Parliament in Edinburgh – was called following the latest unscheduled period of flaring at the start of the month, with the Scottish Environment Protection Agency (Sepa) receiving hundreds of complaints about noise, vibration and light pollution caused by the process.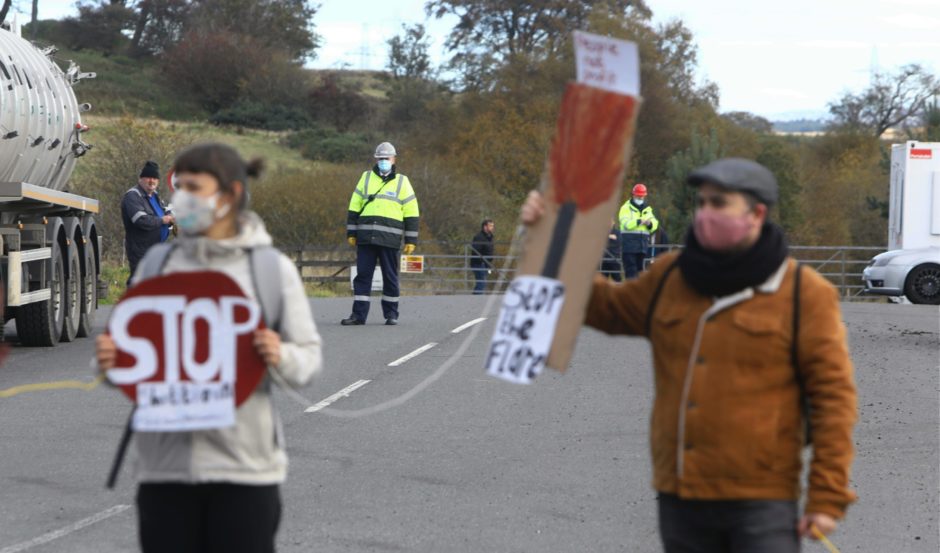 Representatives from Extinction Rebellion Dunfermline and Extinction Rebellion Fife also joined residents from Mossmorran's surrounding areas.
James Glen, who chairs Mossmorran Action Group, said: "We only expected a handful of people thanks to Covid and the extremely short notice, so we were blown away by the show of support and solidarity. Loads of passing vehicles hooted support."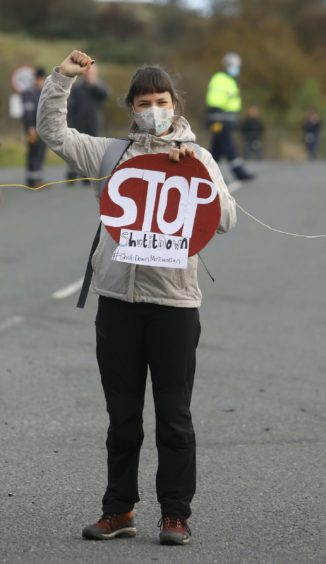 Local woman Rebecca Davies, who was one of the main organisers living not far from the plant, said she "vehemently objected" to its construction in the 1970s, and was "absolutely horrified that a plant spewing out the amount of pollutants into our atmosphere is allowed to continue operating".
She said: "A planned decommission of the plant and Braefoot Bay should have been actioned years ago when their shelf life was running out, especially as it became clearer that these toxic sites were adding to climate change and misery for local communities.
"Their profits are on an obscene level and should have be poured into the decommissioning and development of green alternatives."
She said she was outraged by the most recent flaring and decided "to speak up against this monstrous corporation", adding: "Time for action has now become an imperative.
"It is very frightening and terrifying for those living on the doorstep of the site. Our worst fears about this plant being constructed in the first place have now become a reality.
An ExxonMobil spokesman said: ''We want to be a good neighbour to our host communities, and that is something more than 200 employees work hard to achieve every day.
"We understand the frustration that is caused by the use of our flare, and our commitment to reducing frequency is underlined by an additional £140 million investment in key infrastructure and new technologies due to begin in April.
''While already one of the most modern plants of its kind in Europe, we always look for ways to improve reliability through continued maintenance and investment.
''The Mossmorran facility is an integral part of Scotland's energy supply, meeting the needs of homes and businesses nationwide.
"Furthermore, Fife Ethylene Plant directly supports the manufacturing supply chain for important products such as medical supplies and food packaging.''
ClimateCamp Scotland, which had been due to hold its annual Climate Camp protest at Mossmorran this year until Covid-19 hit, organised the protest in the capital.