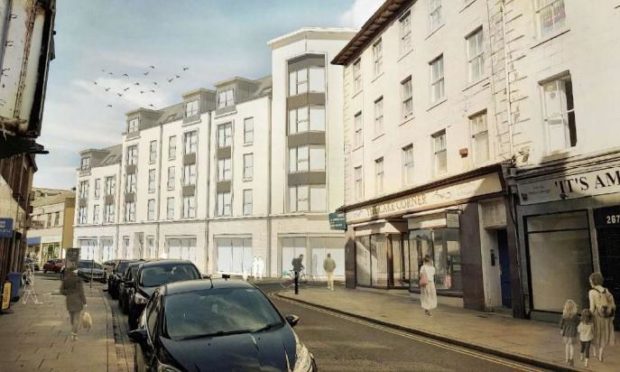 Ambitious plans to bring an unsightly gap site in Kirkcaldy High Street back into good use have been given the green light.
Thirty-nine affordable two-bedroom flats and two commercial units at ground floor level are to be built on the corner of the High Street and Oswalds Wynd towards the north east end of the town centre.
The site encompasses 251-255 High Street, which is currently a furniture store, and 257-261 High Street, which has been cleared of the previous buildings and has become overgrown over the past 14 years of inactivity.
The vacant former Co-op site has been the subject of debate for many years now, and a previous bid to develop the area collapsed in 2008 due to the recession.
However, Dundee-based Newport Property Development has taken on the project, which will see the existing furniture store demolished and a four-storey L-shape block created on the High Street, stepping up to five storeys on the corner and along Oswalds Wynd.
Fife Council will take ownership and manage the 39 flatted properties as the local authority secure tenancies as part of a community letting initiative, while the commercial units will be used for an "adaptations one stop shop" – space for agencies that support independent living.
School capacity issues will also see the council seek to restrict allocating the flats to tenants with school age children until at least 2026.
Two letters of objection were received, including one from Kirkcaldy West Community Council as a statutory consultee citing various reasons including a loss of amenity, a loss of privacy/sunlight, overdevelopment, noise pollution and a loss of vehicular access.
However, council planners assured councillors that all those issues had been addressed when considering the application and recommended approval.
Local councillor Gordon Langlands said he understood the community council's concerns, in particular in relation to shading, but did conclude: "It would be fantastic to bring this site back into adaptive use, an inspiring building compared to what we have at the moment.
"I look forward to this coming to fruition."
Glenrothes councillor John Beare accepted the recommendations but noted: "Just because a site is unsightly doesn't mean development at all cost.
"Where the design is relatively reflective of the building's surroundings, I find this uninspiring – almost brutalist and utilitarian.
"But I appreciate it's in the eye of the beholder."