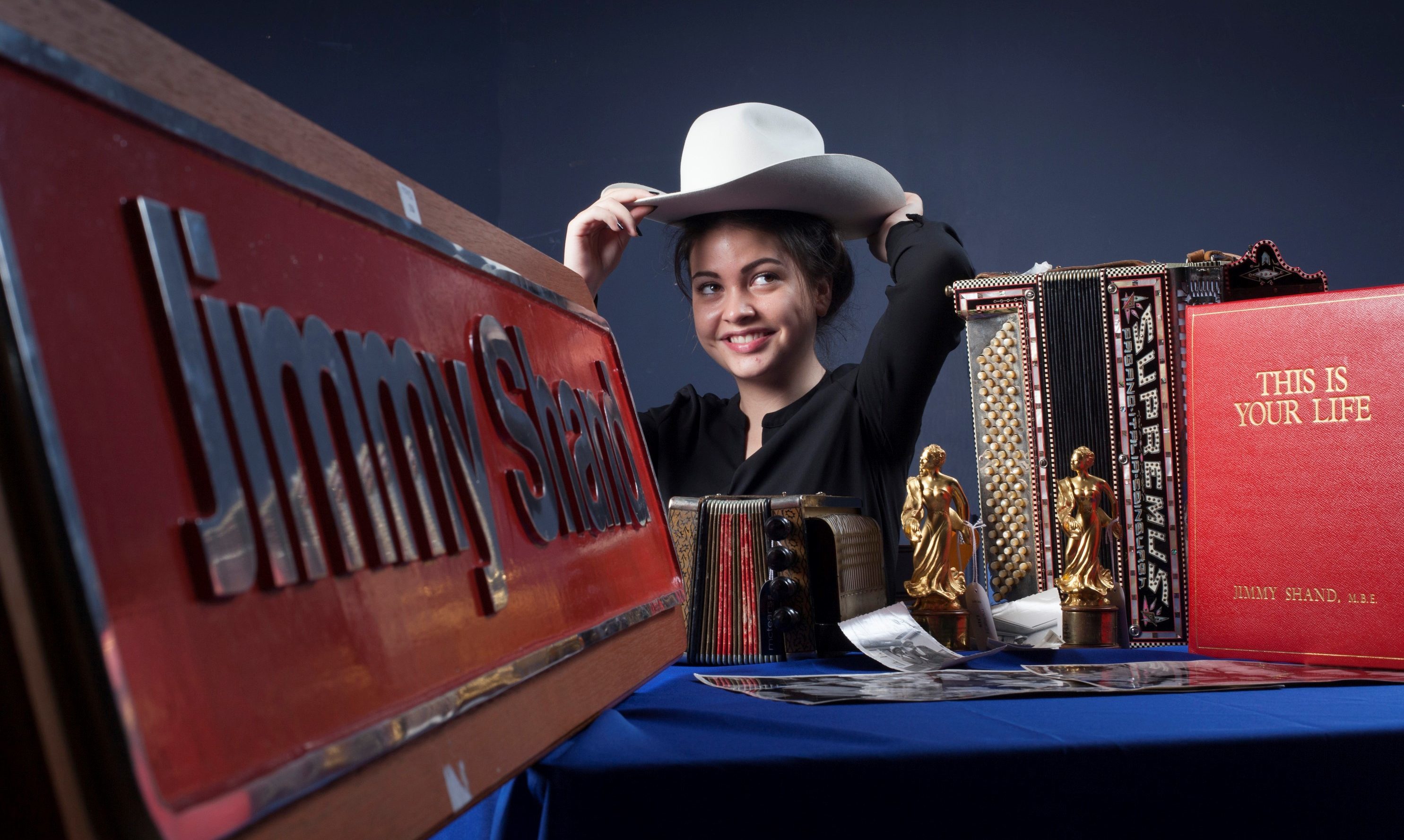 A unique archive of instruments, awards and personal artefacts belonging to one of Scotland's greatest musicians has sold for over £7,000 at auction in Glasgow.
The Sir Jimmy Shand collection, which includes over 60 historical items and paints a fascinating picture of the famous accordion player's life, attracted interest from collectors and fans of Scottish traditional music from across the world.
Amongst the items going under the hammer at McTear's Auctioneers were Sir Jimmy's collection of 13 antique melodeon accordions, which sold for more than £3,000, the big red book and script from the musician's 1978 appearance on This is Your Life, which fetched £700, and two gold discs celebrating his remarkable recording career, which fetched £260 each.
The auction also featured an alloy diesel nameplate, engraved with Sir Jimmy's name, which featured on locomotive 37188 until 1996. The piece was purchased for £1,100.
Other items included diaries, record label contracts, photographs and even a Canadian Stetson made specially for Sir Jimmy.
Bidders at the auction came from across the world with telephone and online bids received from as far afield as Italy, Germany, the Netherlands, Belgium, Canada, the USA and Australia.
The collection was put up for sale by the late musician's son Jimmy, who felt the time was right to share some of his father's memories with other fans of Scottish music.
"Although I have kept many very personal items associated with my father, I felt that there are lots of fans out there who would get enjoyment from these important pieces of Scottish traditional music memorabilia," said Jimmy.
"There are clearly some high profile pieces in the collection but there are also a significant number of smaller, affordable items that have fascinating stories attached."
Born in East Wemyss in Fife in 1908, Sir Jimmy Shand inherited his father's love of music.   Although he started with a mouth organ and fiddle, it was his genius with the accordion that won him praise from music lovers across the globe.
Commenting on the sale, Brian Clements, from McTear's Auctioneers, said: "Sir Jimmy Shand was one of the giants of Scottish traditional music with a worldwide reputation, so it wasn't surprising to see so much interest in the auction.
"There was intense bidding on a number of lots and we are delighted that so many of Sir Jimmy's fans from across the UK and overseas were able to pick up an item, and are now able to enjoy their own piece of Scottish traditional music history."