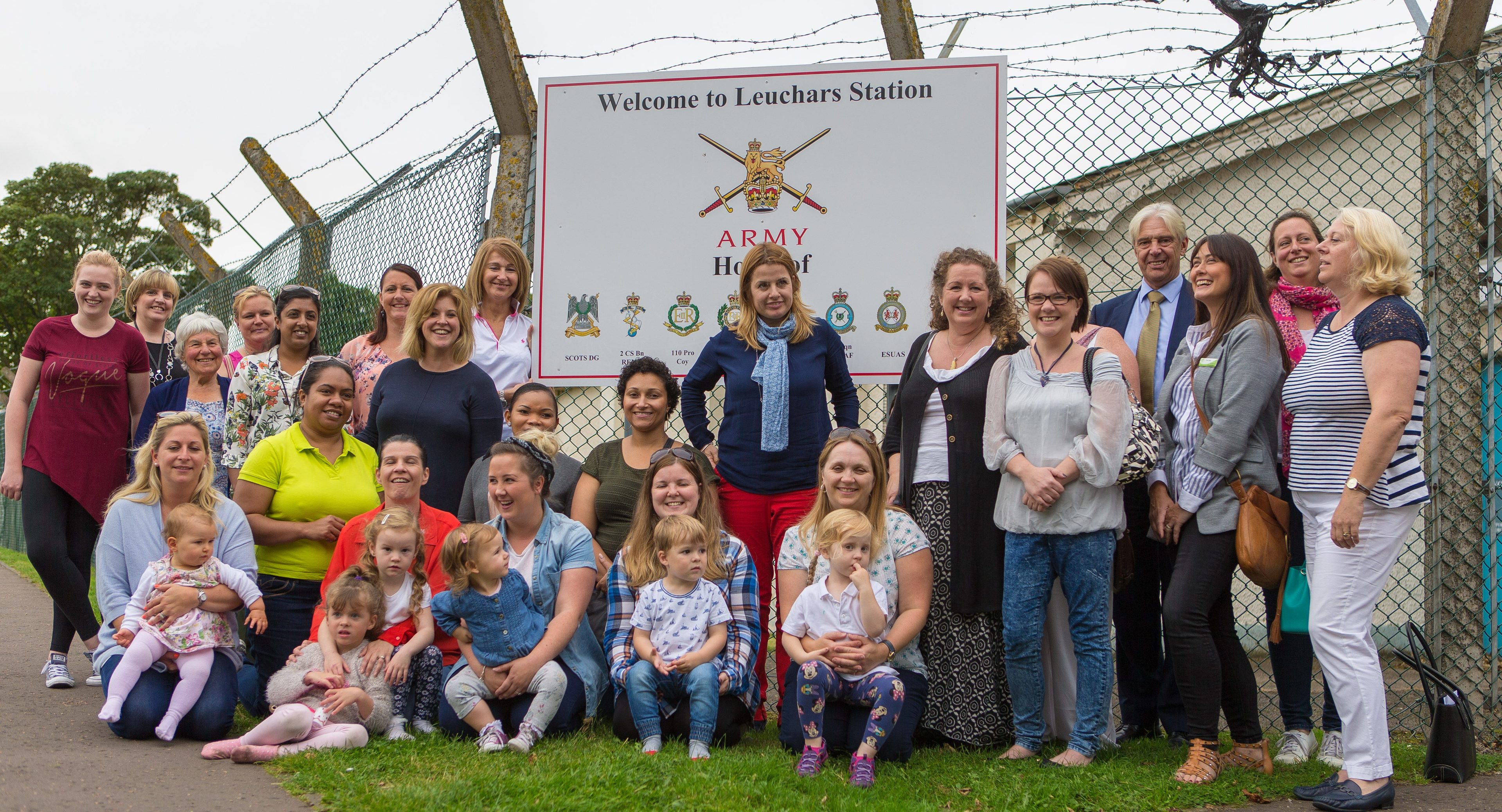 An award-winning social enterprise which marries a "forgotten army" of military spouses with work has expanded to Scotland.
Recruit for Spouses, the brainchild of military wife Heledd Kendrick, will have an office in Leuchars Station army base — the first to open inside a military garrison in the UK.
While their loved ones are defending the country, frequent moves, a lack of childcare and connection to the local area can make it difficult for their other halves to find a job.
And that isn't to mention the unwillingness of potential employers to take a military spouse on, fearing they'll invest in someone only to lose them again after a short while.
In fact Heledd can tell one story of a former magazine editor who was turned down for a job in a bookshop simply because she was seen as someone likely to have to move on.
That is where Recruit for Spouses (RfS) comes in, so employers can access the pool of talent currently lying dormant — the partners of serving and former members of the armed forces
A RfS survey of military spouses — the first of its kind in the UK – has revealed for the first time the extremely high levels of under-employment amongst the military community.
It has also demonstrated the high level of qualifications and skills on offer.
Founded in 2012 by Heledd, RfS is a gateway for employers who would otherwise find it difficult to gain access to the military spouse network.
The Leuchars office also serves the Royal Marines base in Arbroath.
With military garrisons in Helensburgh and Lossiemouth in the North, RfS is keen to expand the service across Scotland.
Scottish representative and military wife Sarah Stone revealed it has had a great response already.
"There are thousands of qualified, experienced, motivated people living in and around military bases across Scotland who are unemployed purely because of their husband or wife's career choice.
"We find jobs for spouses of ex-service personnel too, so with an estimated half a million veterans living all over Scotland that means we have access to a sizeable labour pool."
Jobseekers can include GPs and nurses, vets, documentary makers and managers . But they all have one thing in common — a desire to work.
Sarah added that many are bilingual, and in Leuchars that means a lot of native German speakers.
"Military spouses have also developed skills such as adaptability, resourcefulness and communication, as a result of their association with the forces," she explained
Sarah said just every profession was represented in a military community and bosses were highly likely to find someone with a level of experience and expertise not normally expected outside of a major city.
For more information or to register visit www.recruitforspouses.co.uk.
Recruit for Spouses: A case study
RfS has already placed 12 spouses from Leuchars in jobs and had positive feedback from local employers including Scottish restaurant of the year 2015 The Adamson, St Andrews Links Trust and Dundee and Angus Chamber of Commerce.
Maggie Wright, of Wright Cleaning Services, was among the first to employ those from Leuchars.
Her team worked shifts to clean student accommodation at the University of St Andrews.
And she said without her Leuchars wives she doubted she would have been able to complete the contract on time.
She said: "I will definitely employ military spouses again.
"They were so happy and worked really hard — it was a joy to see people who actually wanted to work and put a lot into it."
Maggie, who also runs a service to help families in trauma, was prepared to allow her temporary staff to work flexibly, to fit around their childcare needs.
"Having been a mother I know how difficult it is and so I was particularly keen to help other mothers and families."
What set the team apart was their happiness in their work.
"I have never seen so many happy women coming to work and they were very good, very hard workers."
And she will definitely be returning to RfS for more workers.
Former aide to PM drives Scottish business
Spearheading the business in Scotland is Sarah Stone, a former adviser to David Cameron during his time in Downing Street.
But the mum had to leave the most famous address in the country, simply because she too is a military wife.
She is frank — she made a choice to fall in love, become a wife and mother and that is not something she would ever give up.
But that also meant walking away from a career she loved.
"I am not alone.
"Our community is a small representative of the world at large but much more concentrated.
"We have everything from cleaners and shop assistants to vets and doctors."
Sarah had originally worked for Steve Hilton, Cameron's former director of strategy.
During her time in Downing Street, as political adviser (external relations),  she helped produce the Conservative manifesto and worked on re-branding the party's emblem to a tree.
Then she gave up something she loved doing.
"I chose to put my life before my job, but I do think I do not want to be dismissed," she added.
About more than pennies in your pocket
Natasha McQuarrie, Recha Munro, Dawn Humphries and Pauline Wood all worked on a contract to clean for Maggie Wright.
They have all worked before becoming army wives, in various roles including childcare and as a restaurant manager.
But all spoke of the problems encountered in trying to find work as they follow their husbands around the world.
For huge swathes of the time they are also the main carers for their children, and cannot rely on help from families and friends as they are often hundreds, if not thousands, of miles away from the base on which they find themselves.
Natasha described the job as brilliant as Maggie had shown a willingness to be flexible over times and days she would work.
"Some of us did evenings, some in the day, and that meant we all came in as a fresh pair of hands.
South African born former restaurant manager Recha added it was also lovely "to get out of the house and be my own person again".
All wondered why employers could not open up more to the possibility of job share, when mums could also then cater for the needs of their families, when husbands simply "aren't guaranteed to be here," said Dawn.
Pauline added finding work was about more than pennies in the pocket.
"With your husband being away, you can feel isolated.
"Getting work and getting out gives you confidence as well."
The stats
The recent survey of 1,250 military spouses shows they are:
98% female;
Around 75% have some form of post-school level qualification – 49% have a degree, 38% have a professional qualification, 24% have an NVQ;
Retail, education, health, accommodation and food services are the four sectors in which spouses have the most experience;
Some 67% have leadership skills, 59% have management skills, 88% have good interpersonal skills, 66% have administrative skills;
10% of respondents have been senior/CEO level managers and 34% have mid level management experience;
42% are unemployed now but 82% would like to be in work;
Almost 70% of spouses who are working now either can't or don't know if they can take their jobs with them when they are posted but 75% of them would like to.