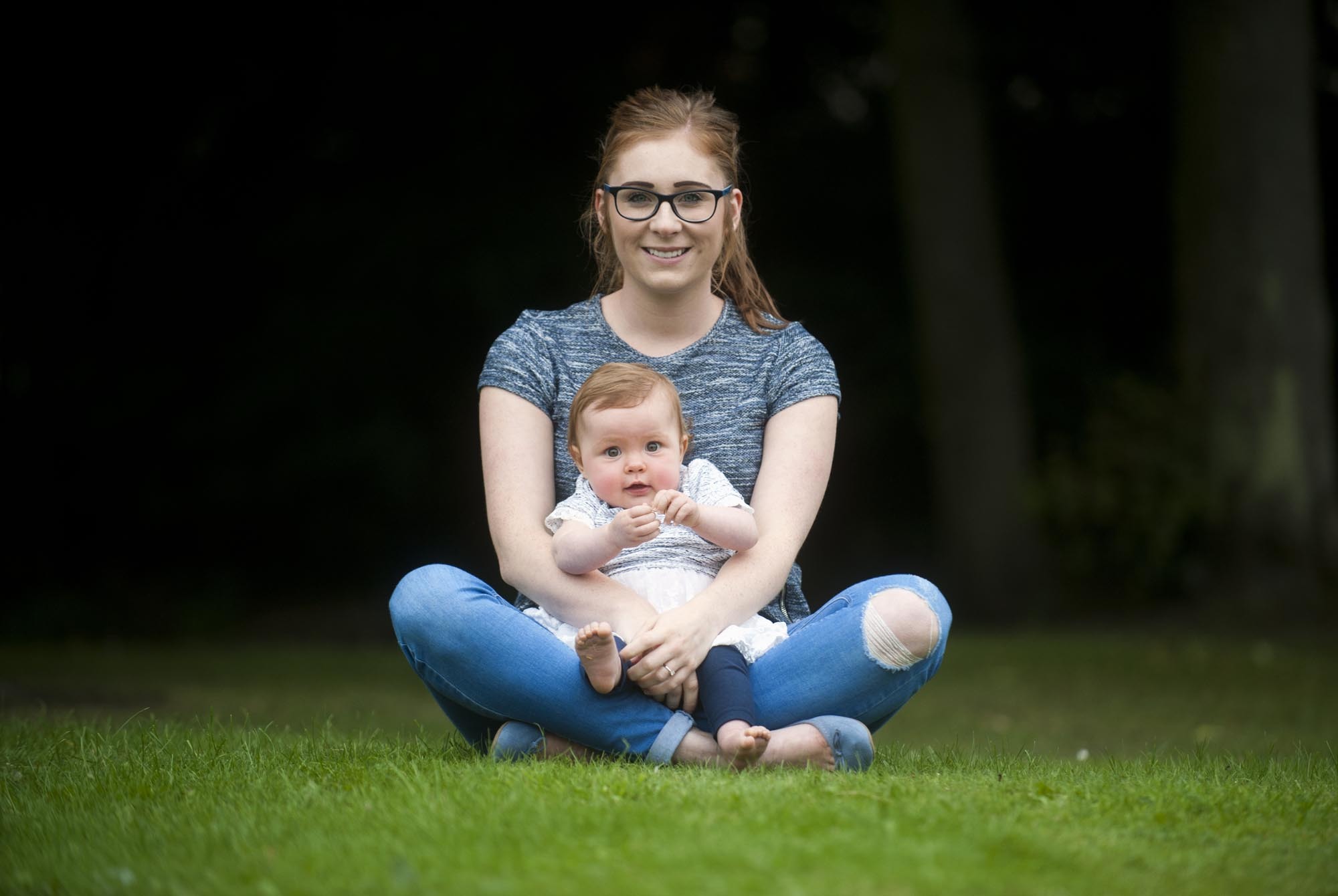 Little Amy Robertson looks like any happy, healthy baby — but eight months ago she was so sick doctors were stunned she was still alive.
Tests showed the 10-month-old had 17 times the amount of potassium in her body than normal.
The mineral is vital in helping the body to function but too much can be fatal.
It left Amy, who was born with only one kidney, fighting renal failure at just nine weeks old, and the only way to save her was major surgery.
But as her levels were so dangerously high, medics failed to see how it was possible and thought it was a fault with their equipment.
They ran the test again to make sure, and just moments later doctors across the country faced a race against time to save her.
Her dad Darren, 23, from Kirkcaldy, Fife, said: "They basically said it was a miracle she was still alive.
"Her potassium levels were so high, they thought it was a faulty reading. They thought it was a fault with the equipment because her levels should have been around the 20 mark, and anything under 40 is ok, but Amy's was away up at 350-odd."
Amy spent the next 18 hours hooked up to a ventilator and had to be rushed from Kirkcaldy to the Royal Hospital for Children in Glasgow for an operation to save her only kidney, and in turn her life.
Now to thank the staff who saved his daughter, Mr Robertson and two friends, under the banner of Amy's Army, have completed the Spartan Beast Race, the toughest obstacle course in Scotland, and raised more than £5,000 for Glasgow Children's Hospital Charity.
"Without the hospital Amy wouldn't be with us," he said. "They saved her life and we are so thankful for that."
The family's nightmare began when Amy's mum, Claire Martin, 25, took her to hospital thinking her baby was dehydrated because she was refusing milk.
But after three days in hospital, a routine blood test to check her kidney function confirmed the deadly levels of potassium in her body.
Her condition was so severe baffled doctors did not know whether to transfer her to specialists in Edinburgh or Glasgow.
But after several talks with staff in Glasgow, a special neonatal transport team was scrambled and she was rushed to the city for specialist care.
Amy was sedated for the two-hour trip south and Miss Martin was allowed to travel with her. But Mr Robertson had to follow by car.
He said: "It was hard to think straight. Horrible things were going through my head, but I tried to stay positive.
"The doctors did really well not to make us aware of how serious it was. It was not until afterwards we knew more. But the thought of losing her did cross our minds."
One nurse, who was supposed to finish her shift at 7.30pm even stayed with the couple until 11pm to help the couple understand all that was happening.
On arrival at the Glasgow hospital, Amy was placed in a heated incubator to bring her temperature up as it dipped to 34 degrees and she spent the night clinging to life on a ventilator before surgery the next morning.
Amy was born last October with only one kidney but, weighing a healthy 8lb 8oz, she appeared in perfect health.
She was only kept in hospital for four days because she had a touch of jaundice, which is common in newborns.
And for the next three weeks she enjoyed being fussed over at home by big brother Aidan, five.
But at three weeks old she fell ill with a respiratory infection and was in and out of hospital over the next five weeks.
Miss Martin became worried about Amy's inability to keep down milk but health professionals initially said it was nothing to worry about.
"She was being tube fed and everything you put down the tube she would bring back up," she said.
"They thought she had reflux because she was being so sick but it was because her stomach was being squashed as there was so much fluid."
It was only when surgeons opened her up that they realised part of her urinary tract was so swollen it was stopping fluids from leaving the kidney.
This caused the build up of potassium, as it was unable to leave her system.
So in a desperate bid to keep her alive, surgeons created a stoma — a false opening in the abdomen for fluids to escape.
The operation was expected to take only three hours but complications meant it took more than six.
Amy also needed a blood transfusion as during the surgery her body stopped producing enough blood to survive.
Her condition was so complex surgeons initially did not know what procedure they would have to perform so Miss Martin had to sign two sets of consent forms.
She said: "The staff were great and they kept telling us they were doing all they can. But it was the longest six hours of my life.
"At first I was ok, but when three hours passed and then four and five, I thought, 'something's gone wrong'.
"The worst thing was thinking, 'how do I tell Aidan?'.
"Then a doctor came in and said it was a lot more complicated than they thought it would be, but it was a success."
Now as she learns to crawl and plays with big brother Aidan, she is like any other baby her age.
Miss Martin said: "She's really active. To look at her you wouldn't think there was a thing wrong with her whatsoever."
Amy had the five-hour corrective surgery to reverse the stoma in Edinburgh in May.
Her parents know she still needs a final operation on her bladder, which is scheduled for two months time.
But there are no concerns about her leading a normal life with one kidney.
Mr Robertson has now raised more than £5,000 for Glasgow Children's Hospital Charity after taking part in one of the country's toughest obstacle courses, the Spartan Beast Race, with friends Grant McGowan and Lewis Campbell. Amy's granddad, John Martin, helped them raise £3,000 of the total when he took a sponsorship form in to work.
Glasgow Children's Hospital Charity is now looking for other would-be runners to take up its free charity entries at upcoming races. Call 0141 212 8750 or visit www.GlasgowChildrensHospitalCharity.org.