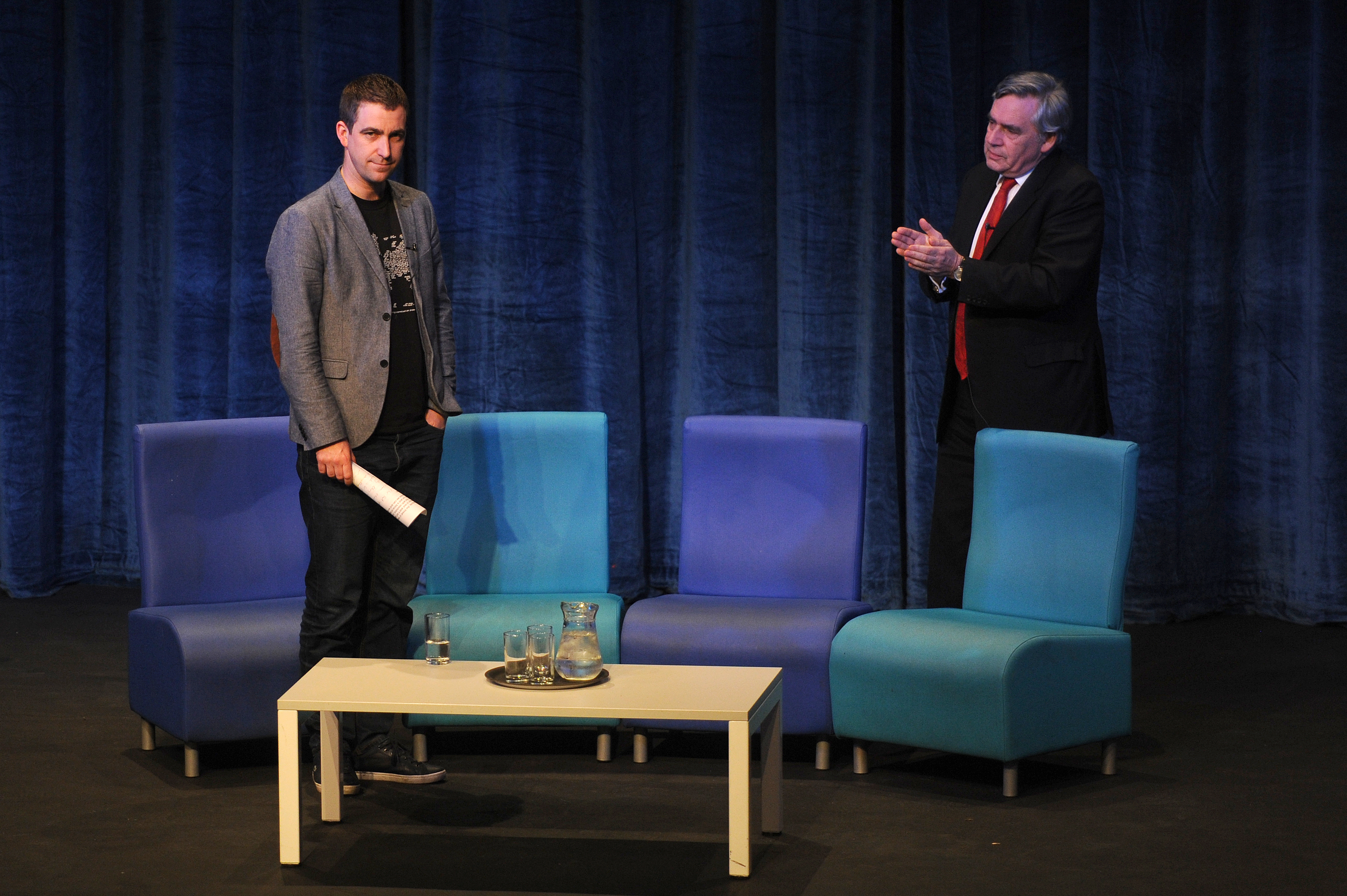 The husband of murdered MP Jo Cox made a rallying call for communities to unite during a lecture in Kirkcaldy.
Speaking at the First Jo Cox Memorial Lecture in the town's Adam Smith Theatre, Brendan Cox warned against complacency in the face of extremism while also defending Brexit voters.
"I know people who have concerns about immigration and the pace of change, but also have empathy," he said.
Some people felt they had "nowhere to go", he added.
"The problem at the moment is no-one is consistently engaging with these most anxious groups."
The activist, who has worked with children affected by conflict, talked about his work and issues around extremism, and the rise of the far right.
"Too often people, especially on the left of politics, see everyone who doesn't agree with them as deplorable," he explained.
"We spend much too much time talking about what divides us and not enough about what brings us together.
"The best way to defeat extremism is to work locally and work closer together."
Mr Cox urged Fifers to take part in the Great Get Together charity event, which will be held in his wife's memory on June 17 and 18.
The public is being encouraged to hold street parties and other events aimed at bringing people together.
"I worked to counter extremism and hatred for a long time before it attacked my family," he said.
"For too long we've been complacent in assuming the rise in support for the far right is just a blip.
"We have got to the absurd position of celebrating fascists coming second in national elections rather than coming first.
"Unless we're clear about the size and the scale of the challenge we face we will be defeated by it.
"In one of her last speeches in parliament, Jo quoted from Edmund Burke, 'The only thing necessary for evil to triumph is for good men and women to do nothing.'
"That was her call to action and I hope it will become ours."
Mrs Cox was murdered by Thomas Mair outside her constituency office in Birstall, West Yorkshire, in the lead up to the EU referendum.
Mair had shouted "Britain first" as he shot and stabbed her.
The lecture rounded off the Adam Smith Festival of Ideas, hosted by the Adam Smith Global Foundation.
Mr Cox was introduced by Sarah Brown, who had worked with his late wife on a campaign to reduce maternal deaths.
Mrs Brown said: "Jo was a friend of mine and a friend of so many people.
"We worked side by side over a couple of years, really trying to speak up for mothers around the world.
"Jo was a terrific campaigner and a really passionate advocate on behalf of others.
"Brendan has been shouldering a lot, but doing it with enormous dignity."
Gordon Brown pays tribute to Jo Cox
Former Prime Minister Gordon Brown remembered the working class girl who was "not trying to join the establishment but trying to change it."
Paying tribute to the late Labour MP, Mr Brown said Jo's efforts to protect her staff even in her final moments were typical of her character.
And he pledged his support for the Great Get Together.
"Brendan, you have all our support," he said.
"We will be there for you in spirit, and we will be there for you in practice.
"Everything Jo has done will be remembered and will inspire us to do more in the future."
It was a poignant tribute after Mr Cox had lightened the mood with a gentle dig at Mr Brown at the start of his talk.
Mr Cox had worked as a special adviser to Mr Brown during his time as Prime Minister.
"Gordon's approach to typing was somewhat creative and more directional than specific," said Mr Cox.
"I learned Serbo-Croat and I have to say it was much easier to decipher than Gordon's typing."
Meanwhile, Mr Brown waded into the reignited debate about Scottish independence when he spoke on Saturday morning.
He proposed an alternative option which would preserve the union while granting the Scottish Parliament additional powers, including to set VAT rates, sign international treaties and take charge of agriculture, fisheries and the environment.
The Adam Smith Festival of Ideas was opened by former shadow chancellor, and Strictly Come Dancing star, Ed Balls, who said the independence campaign could be to the detriment of securing the best Brexit deal for the UK.
Other big names on the programme included broadcaster Sally Magnusson and actress and writer Arabella Weir.
Row over festival funding
Local Labour councillors have been accused of using the Adam Smith Festival of Ideas for political gain.
With Labour heavyweights including Gordon Brown and Ed Balls dominating the programme, questions have been raised about a £4,995 allocation of Fife Council funding approved by Kirkcaldy area committee.
Neil Crooks, who chairs the committee, denied the decision to grant the funding was politically motivated.
But independent councillor Marie Penman said: "The fact that Gordon Brown is now making a speech which will suggest a 'third option for Scotland, a patriotic Scottish way and free from the absolutism of the SNP' makes me think there is definitely a political element to this.
"He's effectively using the platform to give an anti-independence press conference."
She added that because the sum was less than £5,000, it was not subject to discussion in public.
"The festival's programme seemed to be dominated by Labour party speakers, but when I mentioned this to my fellow Kirkcaldy area councillors, I was assured that this was a non-political event, and was all about promoting the legacy of Adam Smith," she said.
SNP councillor George Kay accused his Labour colleagues of treating public money "as if it was their own."
He said: "I really do feel that there needs to be a public scrutiny over the whole event and that the application to Fife Council was set deliberately at a level just £5 beneath the level which would attract the necessity of public reporting."
Also speaking out was Lib Dem councillor Susan Leslie.
She said: "This year we were asked to approve an application very late, after all the publicity was out, and with very little information about the huge overall cost of the event.
"The timing of this request for money, with so little information, in the run up to elections was very unfortunate and left it open to accusations of political bias, given the line-up of speakers."
Mr Crooks hit back by accusing the councillors of trying to score political points ahead of the May elections.
"I think perhaps they are politicising something at a time when they think there is a political advantage to be gained from bringing into disrepute the Labour members of Kirkcaldy area committee," he said.
"If somebody wants to take a microscope to the job I've done as area committee chair over the past five years, feel free.
"They won't find any party political decisions that have been taken."