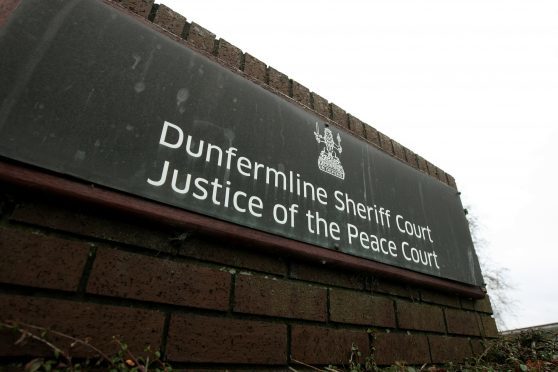 A Fife man who carried out a series of domestic abuse offences against women and stalked his victims has been jailed for 32 months.
Richard Scott, 41, of Pittencrieff Street, Dunfermline previously admitted seven crimes including assault, sexual assault and stalking against five different women between 2002 and 2016.
Officers from Fife's Domestic Abuse Investigation Unit began to investigate Scott in 2016 following a number of domestic incidents with his then-partner.
They worked closely with partner organisations to gather evidence and supported a number of Scott's ex-girlfriends who then came forward to police.
Detective Inspector James Leeson, of Fife Division's Domestic Abuse Investigation Unit, said: "Scott would intimidate and control his victims whilst in a relationship as well as physically assaulting them.
"Following the end of their relationship Scott would stalk the woman, which is an exceptionally deceptive and debilitating crime that caused an immense amount of stress to the women.
"Stalking is often a hidden crime that victims don't always recognise and seemingly innocent gestures can mask much more sinister and terrifying behaviour.
"I would like to commend the bravery of these woman whose courage meant we could present a case to the Crown resulting in a successful prosecution, and I hope that today's sentencing gives them some comfort."
Scott pled guilty to seven charges at a previous hearing at Dunfermline Sheriff Court in September.
He admitted on an occasion in March 2002, at Clunie Road, Dunfermline, he assaulted a woman by seizing her by the throat and compressing it, restricting her breathing and pinning her against a door.
On various occasions between January 1, 2003, and December 31, 2006, at Elizabeth Street and Specsavers Opticians, High Street, both Dunfermline, he conducted himself in a disorderly manner by attending uninvited at a woman's home, he shouted and struck windows and doors, loitered outside her home and repeatedly waited outside her place of work, placing her in a state of fear and alarm and committed a breach of the peace.
He also admitted on various occasions between December 1, 2010, and December 31, 2011, at an address in Trondheim Parkway, he sexually assaulted a woman.
On various occasions between December 1, 2011, and December 31, 2014, at addresses in McClellan Crescent and Trondheim Parkway, Dunfermline, he behaved in a threatening or abusive manner by repeatedly contacting a woman by email and text messages despite being asked not to do so, threatened to show private footage and images of her to others and repeatedly attended at her home uninvited.
Also, he admitted on various occasions between April 9, 2013, and March 31, 2016, at addresses in Airdrie and Townhill Road, Dunfermline, he assaulted a woman by striking her on the head with a helmet, attempted to push her down a flight of stairs, seized her by the body, threw her to the ground and dragged her by the arms, all to her injury.
Scott also admitted on various occasions between February 1 and October 31, 2015, at Beath View, Dunfermline, sexually assaulting a woman.
Finally, he pled guilty on various occasions between October 1, 2015, and June 21, 2016, at Beath View and elsewhere, he engaged in a course of conduct which caused a woman fear and alarm by repeatedly attending at her home address uninvited, left presents for her, climbed over the fence at her home, poured liquid over a trampoline and caused damage to her car.
Following the sentencing, Detective Inspector Leeson encouraged victims of abuse who have not yet reported it to police to contact them on 101 or make an anonymous call to the charity Crimestoppers on 0800 555 111.