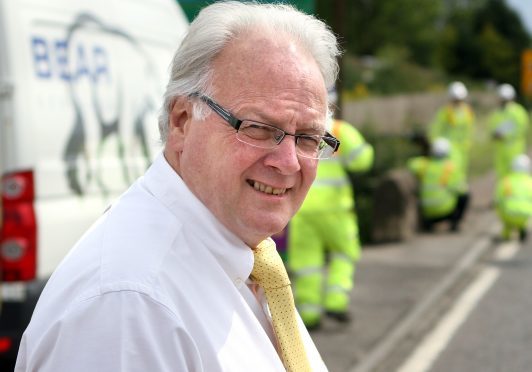 Locals have demanded action to tackle a hard core of troublemakers who are making lives a misery in a Howe of Fife village.
A rowdy band band of teenagers are said to be at the centre of the wave of antisocial behaviour and crime in Kettlebridge.
Local councillor David MacDiarmid said the community had been plagued for at least a decade and one neighbour has been so alarmed by the disorder that he has installed his own CCTV system.
Mr McDiarmid said locals were so fed up that they had stopped reporting most incidents to the police because they didn't think anything would be done.
However, three recent crimes in the village were highlighted in a Police Scotland report to Fife Council's north east Fife area committee.
All involved members of a gang which had been "causing havoc in Kettlebridge for at least the last 10 years", claimed Mr MacDiarmid.
He said: "They cause mayhem and total misery to a small community in north-east Fife.
"It is the same individuals, the same names which come up all the time.
"People feel reporting these individuals is a complete and utter waste of time.
"A neighbour has installed CCTV because he is fed up with all this and the police in the past have used the CCTV to try to help.
"People in this area are sick and tired of these individuals.
"Enough is enough, something has to get done."
Inspector John Docherty, who presented the report by area commander Chief Inspector Steven Hamilton to councillors, assured the committee that Mr MacDiarmid's concerns would be followed up.
The paper said police had received a number of complaints about antisocial behaviour in Kettlebridge and several arrests had been made.
It also revealed the number of incidents of vandalism and malicious mischief in north-east Fife had risen in the first quarter of 2017 to 152, compared with 130 during the same three months in 2016.
There were also more fire-raising offences and detections for drinking alcohol in public places, but fewer motor vehicle crimes and breaches of the peace.