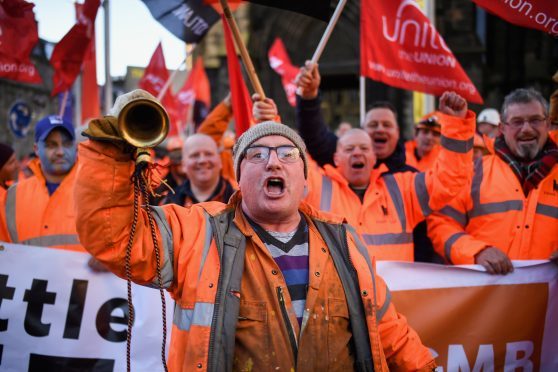 A Dunfermline man whose bugle playing in the Queensferry Crossing went viral at the weekend has sent the BiFab marchers into "battle" with another stirring performance.
Video of Frank Proctor playing the Last Post inside the workings of the Queensferry Crossing was seen by hundreds of thousands this week after it was reposted on Facebook to mark Remembrance Sunday.
Frank works as a shot blast sprayer and he is one of the hundreds of staff facing the risk of redundancy at crisis-hit BiFab in Fife.
Legions of workers have gathered in Edinburgh for a "Battle for BiFab" march on the Scottish Parliament — and Frank stood up to send them on their way down the Royal Mile with a spirited blast of his bugle.
Cheered on by his workmates, Frank played a tune before punching his chest and shouting: "C'mon boys!"
Follow our live coverage of the BiFab rally here.