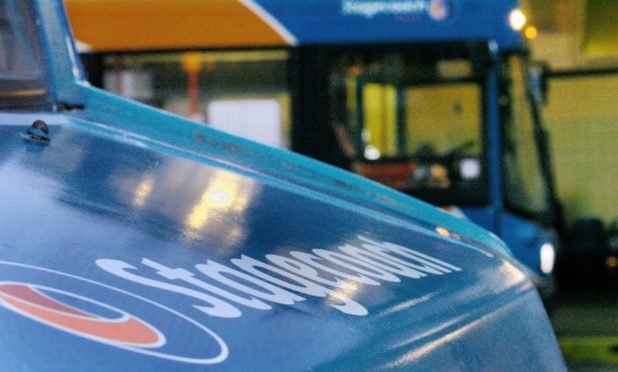 Fife Council says lessons will be learned after two young children were dropped by their school bus almost two miles from their usual stop.
Olivia and Danny Buist were reported missing after their bus drove past the stop in Cardenden where their grandparents were waiting to collect them from school.
The terrified siblings got off in Dundonald and were so distressed that Danny, 5, was screaming for his mother and Olivia, 7, has refused to talk about their ordeal since.
They were handed over to police searching for them when another child persuaded them to go his grandmother's house to call for help.
Their mother Annie Buist said St Ninian's Primary School had not done enough to prevent a recurrence and Stagecoach East Scotland was yet to explain why the driver failed to stop when the bell was rung.
And she claimed the stop was missed again earlier this week, leaving another child's parents to chase the bus.
She said: "Nothing has happened to ensure the children's safety and I am absolutely appalled."
The council said it and Stagecoach would learn from the incident and admitted fare-paying children had not been issued the same information as those with passes.
Olivia and Danny's grandparents were waiting for them at the Corrie Centre, in Cardenden, when the bus drove straight past on January 17.
When the school contacted the driver he did not know where they were.
Annie said: "My son was screaming and my daughter was trying to wave down cars to help them.
"She tried to coax him to walk but it was dark and snowing.
"A seven-year-old boy who was with them persuaded them to go to his grandparents' house and they had to cross a busy road to get there."
Annie said she was plunged into a state of sheer panic when the school called her at her work in Edinburgh to say her children were missing.
She said: "My children are absolutely distressed, they didn't want to go back to school. My son has been having nightmares and my daughter doesn't want to talk about it as she can't get my son's screaming out of her head."
She said she was unaware of the school's protocol that children should stay on the bus if they miss their stop and urged other parents to ensure their children knew what to do.
"I don't know if that's the same for other schools but people should find out and have that conversation with their children. There are children as young as four travelling by bus."
Council education officer Rona Maclean-Ross said: "This was a worrying incident and we want to ensure that both the council and the bus company learn from this.
"As a result, an amended bus driver checklist for all pupils boarding the school bus is now being filled out by the school to confirm children's drop-off points for the driver in an additional attempt to ensure they do not miss any stops on their route.
"Stagecoach has also confirmed that, as an interim measure, their drivers will stop at every bus stop on this particular route until we are satisfied that the checklist is shown to work effectively.
"We appreciate the feedback we have had from parents following the incident.
"It has helped us to determine what additional guidance might be required. Information currently available for families of children with bus passes will be extended to include children who use school buses on a fare-paying basis."
David Frenz, Stagecoach East Scotland operations director, said: "We were very concerned when this was brought to our attention and want to make sure that it cannot happen again.
"We have therefore worked with the council to introduce a new process which will help outline to our driver the pupils who are due to alight at each stop, and we are pleased that the council is contacting pupils to give them advice around travelling on the school bus.
"We have also tried to contact these particular pupils' family to reassure them that we have taken steps to prevent this situation arising again."