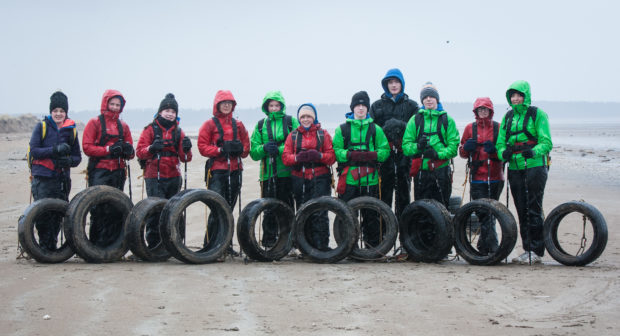 A group of youngsters from Lochgelly High School braved the chilly waters off St Andrews as they dragged heavy tyres into the North Sea.
The ten-strong party were on their tough final training session before leaving for Greenland on April 2 for a 10-day, 100km expedition with youth charity, The Polar Academy.
In the Arctic, the pupils and head teacher Carol Ann Penrose will haul their own 45kg sled for up to ten hours a day.
The seven girls and three boys, all aged between 14 and 17, have been relentlessly training for eight months since being selected for the expedition team.
Nine additional pupils are also being trained as part of a back-up leadership team.
The Polar Academy annually prepares groups of shy teenagers for what proves to be a life-changing expedition.
It aims to help young people rebuild lives affected by crushed self-confidence and feeling 'invisible' in school.
Following the expedition, each pupil will talk to school assemblies across Scotland about the impact of the charity in a bid to inspire others .
The two-hour beach haul was designed to replicate the resistance the team will encounter when their sleds are dragged across the snow.
The gruelling exercise is also a chance to check everyone is fit and mentally prepared for the Arctic.
Expedition leader and Polar Academy founder Craig Mathieson said: "Over the past eight months each member of The Polar Academy expedition team has already shown tremendous courage and determination to commit to what is Europe's toughest youth training programme.
"Greenland is no guided school-trip and it will test their resolve, fitness, focus and team working skills to the limit.
"But like the youths who have gone before, it will be a hugely positive, rewarding and life-changing experience."
As well as hauling their own sledges, the pupils will also have to navigate, camp on the sea-ice and undertake scientific experiments in support of the Scottish school curriculum.
Lochgelly High head teacher Carol Ann Penrose, said: "They are increasingly unfazed and accepting of tasks they would have recoiled from just six months ago.
"I'm really looking forward to being in Greenland and watching the pupils grow further in confidence."
The Polar Academy does not ask pupils to pay for their participation and must raise more than £170,000 a year to operate.