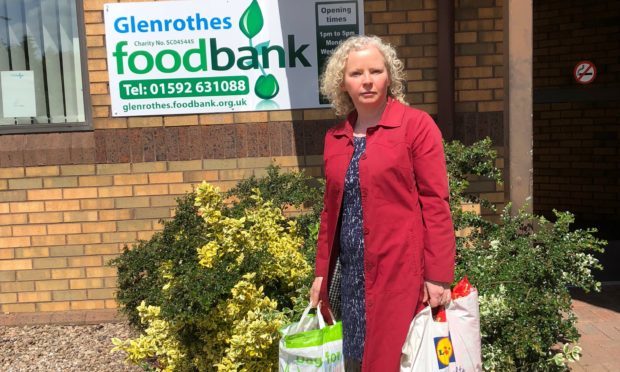 A risk that some children will go hungry without school meals during the summer holidays has prompted a plea to Fife Council.
'Holiday hunger' is known to affect some youngsters who rely on school lunches and breakfasts for nourishment and Mid Scotland and Fife MSP Claire Baker urged the local authority to ensure measures were in place to feed them.
Council leader David Ross said the local authority was "very, very aware" of the problem and that work was already being done and more planned to address it.
Labour MSP Mrs Baker spoke out as she dropped off supplies to Glenrothes Foodbank to help it feed families over the holidays, suggesting North Lanarkshire's Food 365 scheme could be replicated.
She also asked for assurance that parents are directed to local foodbanks and community cafes.
She: "Whilst the majority of kids are undoubtedly looking forward to the summer holidays, we need to address the fact that far too many of them will be losing a valuable daily meal.
"Holiday hunger is a serious issue within some of the most deprived areas of the country and Fife is not immune to that. That is why we need to work together to tackle this.
"In many cases struggling parents simply do not know where to turn to over the summer months. Others do, but are reluctant to ask for help for a number of reasons, from pride to feeling that there is a stigma attached to asking and receiving such help.
"I want to thank all the organisations and volunteers who are working hard to meet the predicted demand.
"That is why I am writing to Fife Council to ask what action they are taking to address holiday hunger, to ensure parents know where to go for help and that support is available right across Fife
"In the long term we need to be looking at innovative and bold solutions such as the Food 365 programme being introduced in North Lanarkshire.
"But whatever happens in the future, Fife must ensure that no kid goes hungry this summer."
Mr Ross said: "This is an issue we are very, very aware of. There is already a range of initiatives in place across Fife, particularly through the voluntary sector, but also through some schools. This is something we will be looking to expand in future."
Glenrothes Foodbank is seeking donations of cereal, sun cream, UHT milk, plasters and snacks amongst other things to meet the needs of children over the summer holidays.