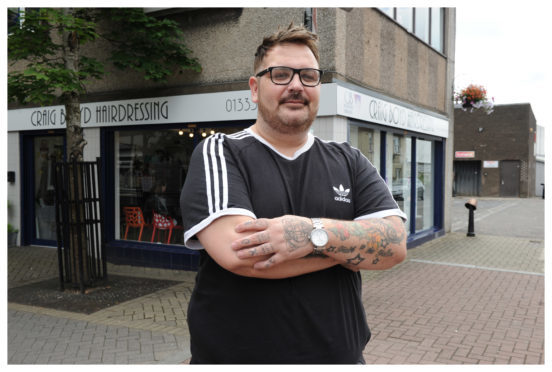 Community spirit in Leven appears to be a cut above the rest amid concerns poverty is continuing to cause serious problems for children and families in the area.
Following reports that foodbanks in Levenmouth and the East Neuk are struggling to cope with demand, local hairdresser Craig Boyd is keen to ease some of the burden on hard-pressed parents and carers by offering free haircuts to children whose families needs to use Levenmouth foodbank or clothing bank.
"We aren't doing this to get credit, we are doing this so every child can go to their first day at school and feel special.
His salon in Leven will be open on Monday August 13 from 11am to 3pm for that very purpose, so vouchers for the free haircuts are being distributed at both the foodbank and clothing bank over the coming days.
The support hasn't stopped there though, as the Red Petal Company and Caroline McCallum from McCallum's Barbers have also pledged to help out – meaning each child will not only get their haircut but also a pencil case filled with school essentials.
Parents will also be able to pick out what they need from donations of uniforms and other clothes from members of the public ahead of the schools going back.
"If it wasn't for Leven and the people of Levenmouth then I wouldn't have the successful salon that I have, so it's good to give back to the community that has given me so much," Craig told The Courier.
"Every child should feel good going to school, but unfortunately we live in a time where everyone is judged.
"We collect in the salon for the foodbank and after speaking to people from the Levenmouth foodbank and seeing this could happen to any single one of us, I wanted to do more.
"That's when we came up with the idea of giving out free haircuts to all kids at school whose parents need to use the foodbank to get by until their next pay cheque.
"I've been so overwhelmed with the messages the salon has had.
"We aren't doing this to get credit, we are doing this so every child can go to their first day at school and feel special.
"We are also collecting stationery, pencil cases and school bags in the salon to try and make sure they all have equipment for going back to school."
Craig stressed that they can only cut the hair of children who have a voucher for the cut, which will be given out at Leven foodbank and clothing bank.
However, he added that all donations will be welcome, and urged any other salon owners or hairdressers wishing to give up even an hour of their time to help out to get in touch.