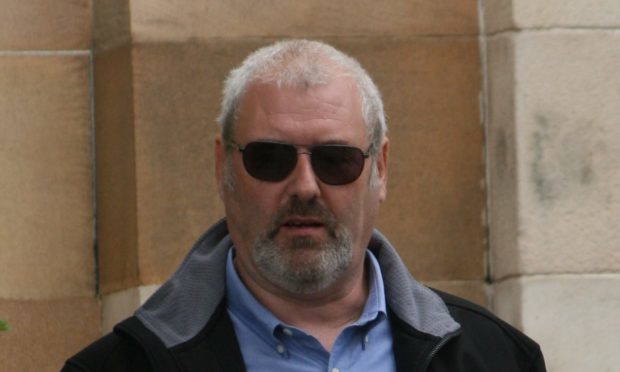 A driving instructor who sexually abused 14 of his young female students while they were behind the wheel of his car has been jailed for four years.
Remorseless Neil Addison left a series of students traumatised following the assaults – that started with "reassuring pats" on the knee before escalating to full on groping.
His campaign of attacks only stopped when one brave student told her sister – who had also been a victim of Addison – that she had to fled his car in tears after he groped her thigh then lunged for her breast while she drove on roads around Fife.
The siblings went to police that night – starting a major probe that uncovered a total of 14 victims.
A four-day trial at Dundee Sheriff Court heard from a string of young women who told strikingly similar stories of starting lessons with "friendly" Addison – only for him to begin groping them a few weeks into their tuition.
On many of the girls he would begin by touching them just above the knee and over the course of future lessons he began "squeezing" higher and higher.
Addison later "escalated" to groping several of the girls' breasts.
A sheriff praised the "dignified" girls for bringing Addison to justice and said their unanimous verdicts on all 14 charges showed they had believed the victims and rejected his evidence.
He added that Addison had targeted the girls in "vulnerable" situations, adding: "It was often while carrying out difficult and dangerous manoeuvres."
But Addison denied all the charges against him and forced 14 young women to give "distressing" evidence over the course of a four day trial.
Addison's final victim, now 18, told the jury that Addison had touched her "just above the knee" during early lessons – moving on to her upper thigh as time went on.
During that final two-hour session he had gone as far as putting his hand between her upper thighs, touching against her private parts.
She said he then reached over and thrust his hand down her top – grabbing her left breast.
The girl said: "When I got out of the car he said 'don't tell anyone about this.'"
Addison was detained by police the following day and interviewed while cops seized records of his previous students before making contact with them.
They were not told the nature of the inquiry – but all volunteered that they had been touched by him.
During that he admitted he was "possibly" attracted to the last girl – 37 years his junior – and added: "Stupid, stupid – 18-year-old head on an older body."
Earlier the trial heard from a string of young women – who told how they had been groped by Addison.
A pattern emerged of little or no physical contact during early lessons – with initial touches on the knee leading to "squeezing" of the upper thigh as time went on.
However, Addison flatly denied touching "of a sexual nature" and claimed to police he was only giving a "reassuring pat".
In her closing speech to the jury, fiscal depute Eilidh Robertson said: "He feels it is appropriate to shove his hand down the top of a 17-year-old girl in the middle of a driving lesson because he is attracted to her."
Addison, 55, of Holly Park, Cupar, Fife, denied a total of 15 charges on indictment, committed between June 2014 and August 2017 during car journeys across north east Fife.
One of the charges was withdrawn at the end of the Crown case after the court heard the alleged victim emigrated to Australia.
The jury of eight men and seven women took just one hour and 45 minutes to find Addison guilty of all 14 remaining charges.
Sheriff Tom Hughes jailed Addison for four years and placed him on the sex offender register indefinitely.
He said: "They looked to you to guide them, paid you good money to do so. You took advantage of each and every one.
"The evidence suggests you were grooming them – on the first lessons you were friendly and pleasant and as time passed you took more and more advantage of them.
"It is noteworthy that over time that your assaults escalated and became more and more serious.
"When you saw the last complainer crying you said not to say anything about it as it would affect your career.
"You show no remorse and don't accept the harm you caused.
"Your victims can take great pride that they gave evidence in a dignified manner and the jury believed each and every one of them."
Addison showed no emotion as he was led to the cells in handcuffs.