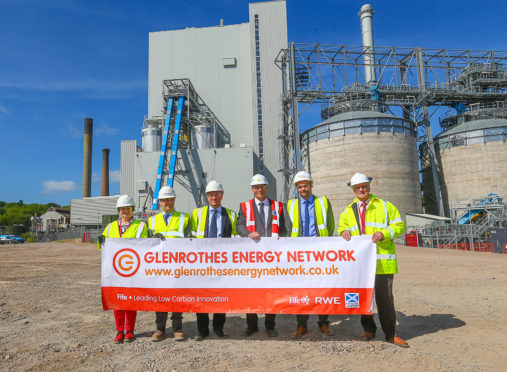 Almost 300 Fife families were cut out of a multi-million pound scheme that would have reduced their electricity bills because of a lack of public funding.
The £24 million Glenrothes Energy Network will lessen energy costs, maintenance costs and carbon emissions, according to a briefing prepared for councillors.
It was reported last July that 327 homes had been identified as potential beneficiaries, as well as a social and community club, a local church, and Fife House.
But just 45 council houses will benefit from the subsidised heating programme after it was scaled back.
The scheme will however still cover Fife Council's headquarters and the authority-owned Rothes Halls.
A "background and progress" slideshow, prepared over the summer and seen by The Courier, reveals the total cost of the original project was £29.7m.
A map of the potential scheme shows the potential for homes on Auchmuty Drive, Baxter Road, Russell Drive, Ninian Quadrant, Canmore Road, Malcolm Road and more to benefit from the project.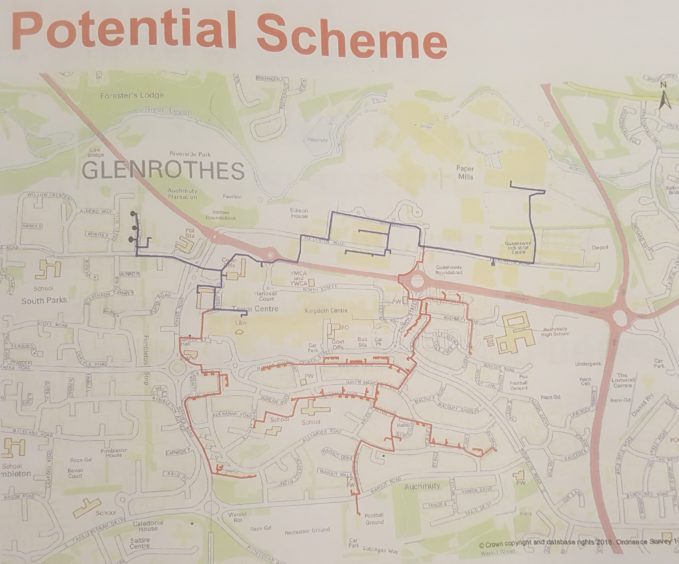 The document states that a "council shortfall" of £5.9m was identified last December, prompting a request for extra funding.
One slide, titled "progress", confirms SNP ministers rejected this bid in January. It adds: "Reduced scheme proposed. Sized to fit budget."
Scottish Liberal Democrat leader and North East Fife MSP Willie Rennie said: "This is poor planning by the council but Fife has also been let down by the Scottish Government who have failed to step up with the funds necessary to provide lower cost and more efficient heating to the homes in Glenrothes."
Scottish Conservative shadow finance secretary Murdo Fraser said the scheme was "a real opportunity to cut energy bills for hundreds of homes."
He added: "Instead, that has been cut back meaning hardly anyone benefits."
Mid Scotland and Fife's Green MSP Mark Ruskell said: "What an advert for Fife it would have been if this scheme was shown to lower energy bills for more than 300 homes while fighting fuel poverty and climate change."
The Scottish Government is providing £8.6m for the project through its Low Carbon Infrastructure Transition Programme (LCITP), while private company RWE is investing £13.6m.
Fife Council did not apply for extra funding in the most recent round of the annual cash handout but could do so next year. Its contribution is £1.8m.
Ross Tulloch, Glenrothes Energy Network programme manager, said two tender processes carried out by the council both came in "significantly over budget" and the Scottish Government suggested cutting the project to its "core scheme" after rejecting the funding bid.
The original pipe sizes remain in place to provide for expansion, he added.
Mr Tulloch said: "We looked at retaining as much of the council housing as possible, and were able to include the council care home and bungalows at Jubilee Grove.
"The Scottish Government have been very supportive and the process has been very collaborative.
"The construction of the 'core' scheme results in a significant investment in Glenrothes, with the potential for future extensions of the network to the Warout and Auchmuty areas."
He added: "The scheme gives us a platform for expansion and the hope is that once we commission the scheme and demonstrate its successful operation, we will then be able to seek funding for expansion."
A Scottish Government spokesperson said: "The Scottish Government, through the Low Carbon Infrastructure Transition Programme (LCITP),  is very supportive of the Glenrothes Heat Project being led by Fife Council.
"We are providing substantial investment of £8.6 million to the establishment of the heat network which will deliver significant benefits for Glenrothes and enable expansion opportunities for the scheme in the future."