A Fife pensioner who was bound and blindfolded during a terrifying knife-point robbery was rescued by a concerned neighbour.
The 76-year-old woman was attacked outside her home on Lundin Road in Crossford on May 4 last year.
On Wednesday, renewed appeals were made on national television to track down her tormentor.
The woman had been in her garden tending to her dogs at around 11.20pm when she was approached by the assailant.
The man, who is around 5ft 8in with a medium build, grabbed his victim and bound her wrists with cable ties before covering her eyes with a makeshift blindfold.
She was dragged into her home and tied to a chair while the thief ransacked her home after cutting the telephone line.
CCTV images released in hunt for robber who targeted elderly woman in Fife
The man, believed to be Eastern European, stole a quantity of jewellery and bank cards before fleeing the scene, leaving his stricken victim trussed up.
A neighbour noticed the woman's lights were still on and went to check on her welfare.
Police Scotland's Detective Inspector Kelly McEwan appeared on the BBC One Crimewatch Roadshow yesterday to appeal for witnesses.
She said: "This is one of the most shocking cases that I've ever seen in 20 years in the police service.
"The elderly lady was in her garden having just tended to her dogs. She lives in a remote house in  the village of Crossford which is about two miles from Dunfermline.
"Just as she was about to go back into the house, she was grabbed by a man who she believes was carrying a knife and possibly spoke with an Eastern European accent.
"After that, the man has then bound the lady's wrists together with cable ties and he's applied a makeshift blindfold.
"He's then forced her back into the house where he has tied her to a chair, again with cable ties, which as you can imagine was absolutely horrific and terrifying for the lady.
"The man has then cut the telephone line within the house, preventing the victim from being able to summon any help.
"He's then stolen a quantity of jewellery and bank cards and then fled the house leaving the victim helpless, still tied up and blindfolded.
"This could have had catastrophic consequences had it not been for the neighbour who happened to still be awake at a late hour.
"They noticed the victim's lights were still on and decided to go check on her.
"Again, absolutely terrifying for the neighbour to walk in and find the victim tied up and blindfolded in her house."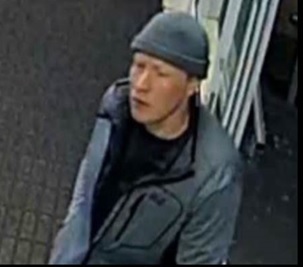 Investigators have previously released CCTV footage of the man, who they believe may have travelled to either Northern Ireland or the Republic of Ireland.
He was captured on CCTV at a supermarket in Dunfermline on the afternoon of the attack. The robber was again spotted three days later at a petrol station in Greenock where he was driving a black Vauxhall Mokka car.
Anyone with information is asked to contact Police Scotland on 101.