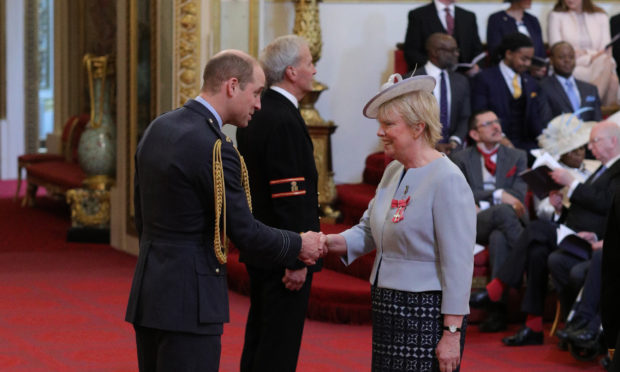 A Fife woman behind an international movement to get schoolchildren more active has been honoured by the Queen.
Retired teacher Elaine Wyllie, 63, started the Daily Mile, an initiative which sees pupils run or walk for 15 minutes each day, at her school in Stirling.
It has since been adopted by 6,600 schools in 55 countries.
She was made an MBE by the Duke of Cambridge for her services to the fitness of children in an investitures ceremony at Buckingham Palace.
When her award was announced in the New Years honour list Elaine, 63, said she was "astounded and delighted".
She told The Courier: "I very much see it as an honour for the Daily Mile Foundation and also on behalf of the teachers up and down the country that make the Daily Mile happen."
Elaine, of Burntisland, is founder of the Daily Mile Foundation, which counts Sir Andy Murray, Sir Mo Farah and Olympic medallist Colin Jackson among its supporters.
She was head teacher at St Ninian's Primary School in Stirling in 2012 when she came up with the idea of 15 minutes of daily activity outside the classroom.
Shocked to see a class of 10-year-old children struggle to complete a warm-up run across the school field, she decided they needed regular exercise to build up their stamina.
The results in her school were remarkable, with the children looking fitter and performing better in the classroom.
Elaine said: "We could see we had stumbled across something that was good for the children and that it could work elsewhere but never did I think a foundation would be set up."
Research has found that children who do the Daily Mile for seven months have reduced body fat and improved fitness and activity levels.
There is also evidence of better academic attainment.
Children who take part are also said to be happier, less anxious and better able to focus and concentrate in class.
As the activity is non-competitive it is also said to help build confidence and self-esteem.
Children run or walk for 15 minutes, which equates to around a mile for most youngsters.