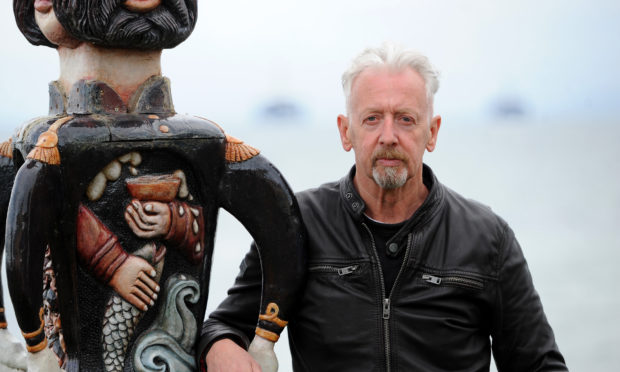 A small Fife community boasts some big names for its first ever arts festival.
Comedian Phill Jupitus and world-renowned sculptor David Mach will star in Largo Arts Week.
Event organisers have also roped in folk musicians Rab Noakes, James Yorkston and Mairi Campbell and Skids frontman Richard Jobson, as well as poets Hollie McNish and Liz Lochhead.
Well-known artists, musicians and poets will feature alongside more than 36 local artists and makers exhibiting in their own homes in Lower Largo and Lundin Links from July 19-28.
Mach, who is famous for his large-scale works, unveiled the line-up in Lower Largo, where he has a home.
He said: "There's a wealth of artistic talent in this part of Fife and I'm delighted the artists have come together themselves to launch this new event.
"One of the really exciting aspects of the festival is that, although the art of local creatives is the main focal point, guests will enjoy a variety of acts from other arts disciplines including music and poetry."
Local artists Andrew Stenson and Dougi McMillan are behind the festival.
Dougi said: "I approached Andrew and the local community to initiate the idea of starting the Largo Arts Week across the Lundin Links and the Largo area.
"It was a very obvious step towards providing an opportunity to showcase the wealth of talent within the villages, through a wide range of events which will engage the community and visitors to the area.
"We have some wonderful artists and performers lined up for the arts week period, featuring art, music, talks and family events.
"The community has really embraced the arts week and we are all looking forward to a fantastic event for everyone.
"Lower Largo is often overlooked as part of the East Neuk of Fife and we hope that Largo Arts Week will address this to place it firmly on the map."
Marking the 300th anniversary of the publication of Daniel Defoe's Robinson Crusoe, the festival will include a talk by artist Roger Palmer on his exhibition based on the Largo castaway Alexander Selkirk who inspired the character.
Two evenings of music, poetry and talk are planned featuring the headline acts, including Jupitus who lives in the East Neuk.
There will be gigs by several bands and musicians, also including Astral Suns and Withered Hand.
Former Makar and national poet Lochhead will host a creative writing workshop.
Street food fairs will be held both weekends and there will be children's events, competitions, storytelling and walks.
The focal events space will be the former St David's Church.
For the programme and tickets visit www.largoartsweek.com.