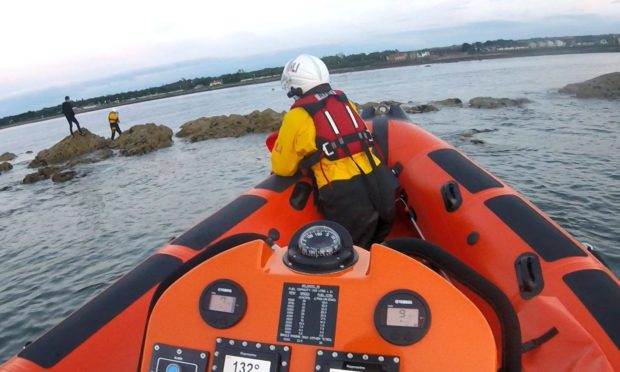 The dramatic moment a teenager was rescued from rocks by Kinghorn Lifeboat crew was caught on camera.
Kinghorn RNLI launched at around 9.30pm on Friday after a 16-year-old boy became stranded on rocks on the East Lothian coast.
He had been caught out by the tide and crew members said he did the right thing by not panicking or trying to swim ashore.
Some photos from one of last night's shouts, on top of the launch footage captured by @ProjectLifeboat . The boy is safe thanks to him not panicking and trying to swim ashore. Great teamwork – no damage to the lifeboat and not even his toes got wet! pic.twitter.com/OkImwJ9xuc

— Kinghorn Lifeboat (@rnli_kinghorn) June 15, 2019
A spokesperson for Kinghorn RNLI said: "We were called out at 9.37pm last night to the aid of a 16-year-old boy cut off by the tide on rocks at Port Seton.
"The crew brought the lifeboat into the Long Craigs outcrop and boarded the boy before taking him ashore and into the care of the North Berwick coastguard team."
It is understood the teen was none the worse for his ordeal.
The moment the lifeboat launched was captured on video by The Lifeboat Station Project, an art project by photographer Jack Lowe aimed at creating a record of every lifeboat station in the UK.
Moments ago, @rnli_kinghorn launched on their 38th shout of 2019. The volunteer crew were on their way to the casualty within 7 minutes of the pager sounding. Yet again, a privilege to see these amazing lifesavers spring into action. Fingers crossed for a good outcome… #RNLI pic.twitter.com/iLGjGrJLmQ

— The Lifeboat Station Project (@ProjectLifeboat) June 14, 2019
Just as the Kinghorn crew were refuelling the lifeboat back at shore, they were paged again after a report of someone in the water to the east of Methil.
The person in the water was brought to land safely before they arrived.
"We were stood down en route as the person was brought ashore," said the spokesperson.