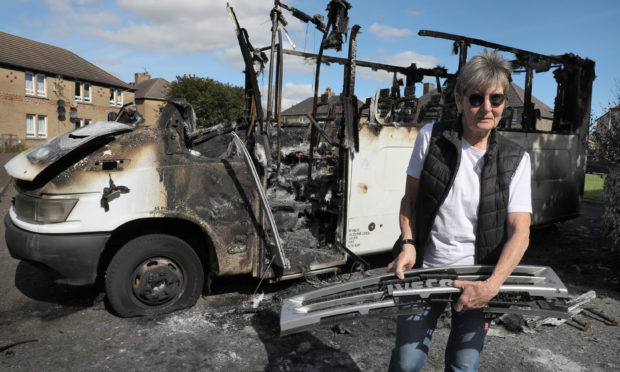 Sick vandals have torched a minibus used to take disabled children to school in Fife.
The vehicle, owned by the MyBUS social enterprise based in Leven, was destroyed by fire early on Saturday morning.
MyBUS is now operating a reduced fleet and has had to cancel an outing for a group they run aimed at tackling social isolation.
Director Mary Parry said the incident was being treated as deliberate fire-raising, adding: "Just why? It's just unbelievable.
"I've had to look for a replacement, which would be about £11,000 for a second-hand bus.
"It could cost anywhere from £40,000 upwards for a new one, and we couldn't afford that."
Mary said the bus destroyed in the fire was used to take a small group of pupils to Hyndhead School in Buckhaven, which caters for children and young people with complex additional needs.
"That's the one that can take the most wheelchairs," said Mary.
"We've got a contract with Fife Council for special needs transport to school. We have one other vehicle we can use for that but if that goes off the road, I don't know what we'd do."
A GoFundMe crowdfunding page, which can be found by searching for "Mary Parry's community bus", has been set up to raise funds for a replacement vehicle and donations have already started coming in.
MyBUS not only provides transport for vulnerable members of the community, it also runs lunch clubs at Scoonie Bowling Club for people who might otherwise become isolated.
The organisation has had to cancel an excursion for a group including two 99-year-olds because their fleet has been reduced from six to five.
"We've got a lunch club and we need three minibuses to bring people in," said Mary.
"They're people identified as socially isolated. We have people from their mid-thirties up to 99.
"We were supposed to take them on a trip on Thursday but we're not going to manage because we can't have two buses out for most of the day, because we have to go back and forward to school, and help the blind club. But we'll still bring them in for lunch."
Mary said her son alerted her to the fire at around 5.30am on Saturday.
The vehicle had been parked in Herriot Crescent in Methil.
"Flames were coming from the bus and the fire department was already there. It was completely destroyed," she said.
The Scottish Fire and Rescue Service confirmed crews arrived in Herriot Crescent on Saturday to find a minibus well alight.
It is understood Police Scotland is investigating the fire. However, the force would not comment on the incident.