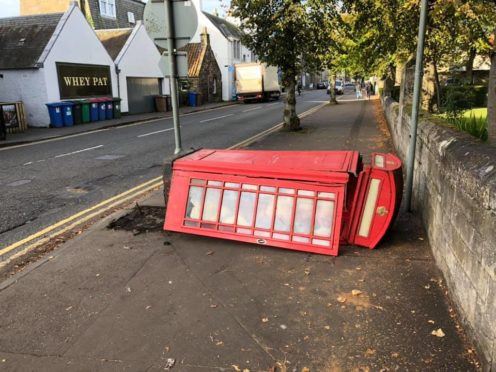 A B-listed red phone box in St Andrews may be lost for good after it was toppled by a tractor.
The telephone kiosk has stood at its spot in Argyle Street, at the junction with Bridge Street across from the Whey Pat Tavern, for decades.
It was sent crashing to the ground on Thursday morning when a tractor driver misjudged the corner, causing a trailer to clip it and knock it over.
The accident happened shortly before 10am. BT, which owns the kiosk, was at the scene by lunchtime to arrange for it to be taken away.
Nobody was injured. However, the phone box may be beyond repair.
A spokesman for BT said: "As soon as we were made aware of the damaged phone box on Bridge Street we sent an engineer to investigate.
"Due to the severity of the damage, the phone box will be removed within 24 hours.
"At this stage, we are unclear on how it was damaged. We'll make a decision on any replacement shortly."
Earlier this year it was announced that dozens of phone boxes across Fife would be removed unless they can be adopted by local communities for alternative use.
None of the 42 phone kiosks facing the axe are in St Andrews.
The BT spokesman added: "We had no plans to remove the payphone prior to its damage."
Police Scotland confirmed a New Holland tractor pulling a trailer was involved in the accident at about 9.50am.