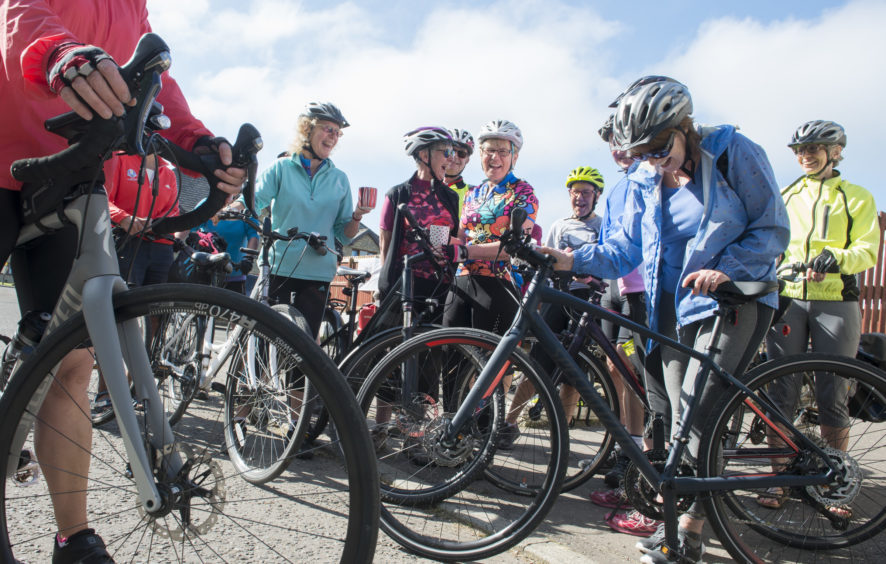 The Courier has published the results of its Pandemic Pedal Power survey – a comprehensive picture of local cycling habits and attitudes across Tayside and Fife. But how do those habits vary across the region? To find out, we've broken down the survey results to identify key priorities and problems in Dundee, Angus, Perth and Kinross and Fife.
Angus: Home of the rural cyclist
Make no mistake – Angus is the local home of the cycling 'enthusiast'.
It might be something about the county's largely rural nature, with single-carriageway A-roads and farm tracks linking many of its towns and villages together, but Angus cyclists are the most likely to go out daily or at least several times a week, often socially and for pleasure.
They are also far more likely to be a member of a cycling club (47%, compared to a region-wide average of 29%) and to take part in cycling events than others across Tayside and Fife (57% and 48%, respectively).
They also tend to own more bikes – with half owning road bikes designed for piloting along tarmac, and half also owning mountain bikes for going off-road. Around a third own hybrid bikes, offering the best of both worlds.
People who cycle in Angus, like their counterparts across Courier Country, do not rate biking as a convenient means of getting about, citing health reasons above all else for why they get in the saddle.
That said, they are keen to cover distance, with more than half covering at least 40 miles a week and 16% claiming to rack up 100 miles every seven days.
With many rural roads that go largely unused save for locals and farmers, it may not be surprising to find that people who cycle in Angus largely rate the infrastructure as adequate, and are on average less concerned about the behaviour of other road users.
The rates at which they report near misses or accidents are also the lowest of any part of Tayside and Fife, albeit still remarkably high: 70% compared with an average of 73%.
Case study: The go-everywhere veteran
Former police officer John Bremner is no stranger to cycling across Angus. That said, he reckons there isn't a road he hasn't covered on his bike since lockdown began in March – over 3,000 miles in all.
The 56-year-old, who now works as the Angus coordinator for the Bikeability cycling proficiency scheme, made the most of the quiet roads early in lockdown – but rates his recent cycling experience as a "mixed bag".
"Early on, the roads were quite quiet and I've not had that many issues with close passes or anything like that, they are few and far between," he says.
"I've had one problem with someone emerging from a junction but I seem to have been quite lucky.
"There's a few hours on a Sunday and that with no major issues, but lately the roads have been a lot busier."
Arbroath man John says the greatest concern he has is with the infrastructure on streets within Angus towns rather than the winding country roads that connect them. The fact that cars tend to avoid the back roads is not unconnected.
His only close shave to date during lockdown was, as it happens, in the town itself, when a Renault Clio appeared to do its best to beat John out of the junction he was about to pass on the Westway. It subsequently performed a "left hook", crossing over the cycle lane inches from him to head down another road.
"In my experience drivers appear to be more cautious and considerate (now) but in town there are a lot of problems with junctions," he continues.
"There's a lot of farm roads around here so you don't need to cycle on the main roads and mix with traffic.
"There's a big issue in Angus of people cycling on the pavement but that's only because there's a perception that riding in the road is not safe.
"I would like to see segregated lanes, not for me, but to get more folk cycling. I'd like to see Angus Council reduce speed limits on back roads to 40mph, and more segregation to get families off of the pavements.
"We've seen what happens then there's infrastructure there elsewhere to allow that."
Using a previously agreed Sustrans grant, Angus Council is examining how to redesign Arbroath's notorious dual-carriageway which effectively splits the town in two.
Angus Council pressing on through pandemic with design stage of controversial £13m Arbroath active travel scheme
John is resolute that a combination of infrastructure and a change in the law to introduce "presumed liability" – the notion that the more powerful road user in an accident is liable by default – would benefit everyone, from pedestrians and cyclists through to motorists.
"There are so many people against taking away a dual carriageway but it would encourage more people to cycle," he adds.
"I do think the council has missed an opportunity with this Spaces for People funding but there is still a (long-term) opportunity to make changes to infrastructure – and we need to change the law so we have presumed liability, as other European countries do.
"If a driver hits a cyclist or a cyclist hits a pedestrian, they should be presumed at fault unless proven otherwise. That would change attitudes straight away.
"I'm not a big campaigner but that's the biggest change you could make."
The local response
To date, Angus Council has successfully claimed £160,000 from the Spaces for People fund, of which £50,000 has been spent on a consultant to carry out feasibility studies for new active travel projects across the area. The oher £110,000 has been used to create 20mph zones in all seven towns and a handful of villages.
It has now put in a second bid of £629,000 for further speed restriction and physical infrastructure measures, and continues to investigate a number of pre-lockdown projects though the Cycling Walking Safer Streets scheme, including a dozen fully-funded active travel projects valued at £512,000.
Coronavirus: 20mph zones planned across Angus towns and villages to control safe exit from lockdown
An Angus Council spokesperson said: "We are pleased to see the results of the Courier's Pandemic Pedal Power Survey which shows Angus's cyclists to be so active with 83% using their bikes at least once a week.
"Much of our infrastructure encourages cycling and we have some great rural roads, with some occasionally challenging hills, and fantastic countryside to explore.
"We are continuing to explore opportunities for investment in active travel opportunities, including building on the increased active travel during Covid-19, which has seen environmental benefits from the reduction in car use.
"We were already progressing Arbroath Places for Everyone, and we have a full programme of Cycling Walking Safer Routes.
"In addition we have successfully bid for funding to maintain social distancing and encourage active travel through the Scottish Government's Spaces for Everyone funding stream."