LONG READ: How Tayside conductors on the 73 found true love on 'UK's only clippie bus outside London'
By
Stephen Eighteen
March 7 2020, 8.13am
Updated: March 9 2020, 9.50am
Love on the 73 – Tayside's unique bus
Stagecoach's popular 73 route is thought to be the only bus service outside London that still has an on-board conductor. The affection held towards this unique setup extends beyond passengers and into the daily lives of the staff who make the journey between Arbroath and Ninewells so special…
Dick and Patricia – the 73 couple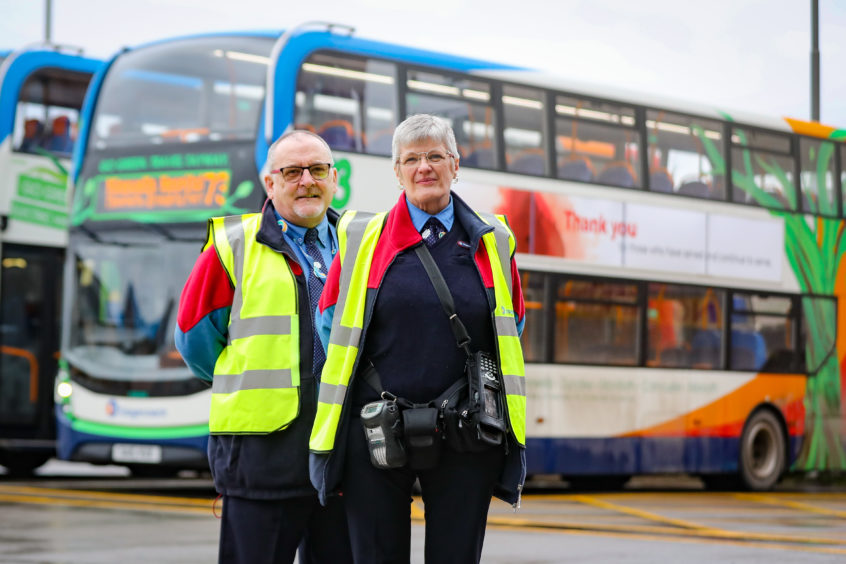 Dick and Patricia Balbirnie could well be the only married bus driver-conductor couple in the UK.
Conductors, affectionately known as clippies, were a common feature on many local bus services in larger towns and cities in the UK until the late 1970s and early 1980s, before costs were cut and most bus drivers were forced to process fares themselves.
With the recent introduction of contactless payments and move towards pre-purchasing tickets it is likely that there will be no big clippie comeback in the foreseeable future.
Some of London's newer Routemasters – famous for open entrances at the back of the bus – have conductors dealing with payments, as do services on FirstGroup's FTR buses, a rapid-transit system launched in Leeds, Luton, Swansea and York in the mid 2000s.
But the buses used for Stagecoach's 73 services differ from those above in that they are little different to others that are used on local routes – only that they come with a conductor to deal with payments and passengers who need help.
In short, while London and the other cities mentioned have sporadically reintroduced conductors as part of new initiatives, the ones we see in Angus and Dundee are part of the existing infrastructure and have, for at least the past 34 years, been disconnected from political impulses. This makes the 73 unique.
Deeply embedded in this well-established outlier are employees Dick and Patricia Balbirnie, an Arbroath couple who found love on the 73.
Dick, 64, began driving the route 30 years ago, and after doing the rounds on other services returned to the 73.
On each journey he is accompanied by a conductor and sometimes that person is Patricia, 59, who he married in December 1994.
Patricia, who grew up in Charleston, was working for Stagecoach as a bus driver when she met her future husband.
"She drove a little bus and we used to wave to each other," recalls Dick. "Then we met at a staff night out.
"I asked her out three times but she said no – or words to that effect. Then we got together and that was it."
Patricia became a clippie in 1998 and often finds herself taking payments from passengers who have just walked past her husband in the driver's seat. As a married couple it would perhaps make sense to have them on the same bus services at all times but they are treated like any other member of staff.
"We just go with whatever the shift is. It doesn't bother us," says Patricia.
Away from work, there is little talk about their day on the 73. "Unless it is really funny we don't discuss anything about work," says Dick.
But there is a definite camaraderie among driver and clippie. "You've got one and other's back," adds Patricia.
Dick, despite limited passenger interaction on the 73 due to not taking their fares, says "it's more sociable and you get to chat to everybody. It's good fun. The clippie helps a lot."
Dick, who was previously a driver for supermarkets and sales vans, is approaching retirement age.
"I love driving and as long as I'm driving I'm happy. There's nothing else I want to do. I love my job. It has its moments but it's great." he says.
"[When I retire] I want to go to the pub every day but can't do that! I am thinking about coming back part-time as I would miss the company, the people, the laughs. I wouldn't miss the long shifts though!"
As she closes in on her landmark 60th birthday in March 2020, Patricia has no plans to look elsewhere to see out her working days.
"I left for three years to work for the Co-op, and I did bar work but came back here as I  knew exactly what I wanted," she recalled. "The grass isn't greener.
"I actually thought about leaving a while back and couldn't think of anything else.
"Once a week, people get on the bus not realising there were places that had still had clippies.
"They are able to sit down and we take their fare. They are not having to fluster."
The couple have three daughters, 10 grandchildren and a great grandson. Family and friends helped them celebrate their 25th wedding anniversary, in December 2019, by joining them for a meal and Elton John tribute show in Dyce, near Aberdeen.
Mylissa – in love with the job after finding love with fellow conductor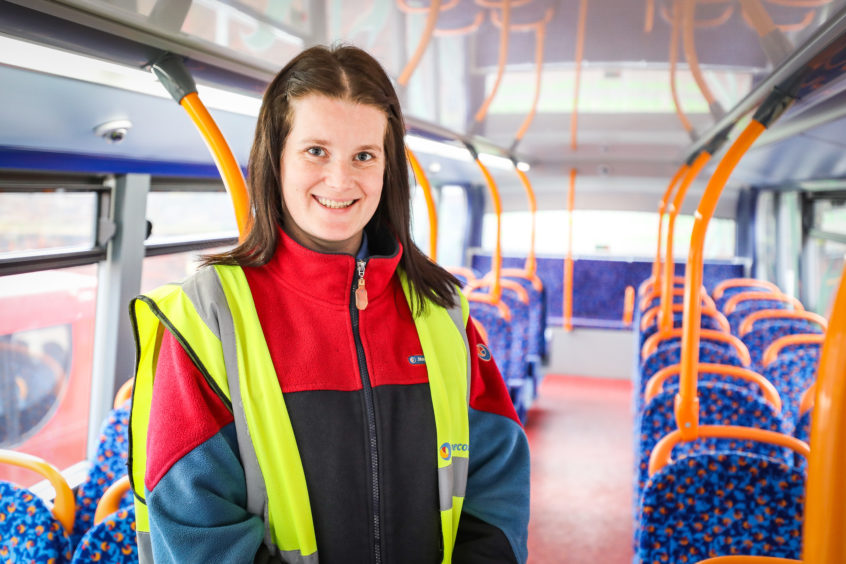 When Mylissa Collins was born 28 years ago, conductors had all but disappeared across the UK.
Yet being a clippy on the 73 was the Dundonian's first job, aged 17 – and if she has her way it will be her last too.
Like Patricia, Mylissa left her position as a 73 conductor and returned when she realised how much she loved what she did – and like Patricia she also got to know her future husband while working on the buses.
"I moved to Arbroath when I was 16 and I thought it was something I wanted to do," Mylissa says.
"It was my first job. My mum used to work here. She told me about it and I went to the interview and got the job.
"I left after 10 years to try something different – a care assistant – but thought to myself after a year and a half that I like the public and the route and like being busy so came back in the summer of 2019.
"I did try something different but, no, I don't think I will try something different again.
"I have been back for six to seven months and I am enjoying going back to what I do."
Mylissa's long-time friendship with Jamie Collins took a romantic turn once he started working alongside her as a conductor, culminating in their wedding in Arbroath in September 2017.
"Before he started we had been speaking but more so when he started as a conductor. I got to know him more.
"And, yes, we got together. Five years later we got married and we are still together. He now works in the office with the supervisors as a spare [driver]."
Despite clocking up almost a decade's service in two spells as a 73 conductor, Mylissa is one of the youngest members of staff.
"When I had the interview I noticed that every bus that was going past had conductors on it and I wanted to do that job," she says.
"I like the public, I like having a chat with the public and having a laugh and a joke with the public, being pleasant to them, helping them on and off the buses, elderly, with their frames and prams, in chairs.
"We are always there for a helping hand and even if we are busy up the stairs or even at the back of the bus in a wheelchair, the driver can easily get out of his cab and put the ramp down and help other people on. So, yes, it keeps you happy."
Mylissa smiles at comments made by visitors from England, shocked at seeing a bus conductor.
"They came up to Scotland for a holiday. They came on the bus and didn't expect to see conductors ever on the bus. I explained that the 73 always has conductors because it is a busy route and I didn't realise, to my knowledge also, that there were no conductors anywhere else."
Did this make her feel special? "Yes, a wee bit," she laughs.
"The crew, as in conductors and drivers altogether, are a good working team in staff rooms and on the bus. We get on quite well."
Shane – ex RAF veteran and bar boss at peace on the 73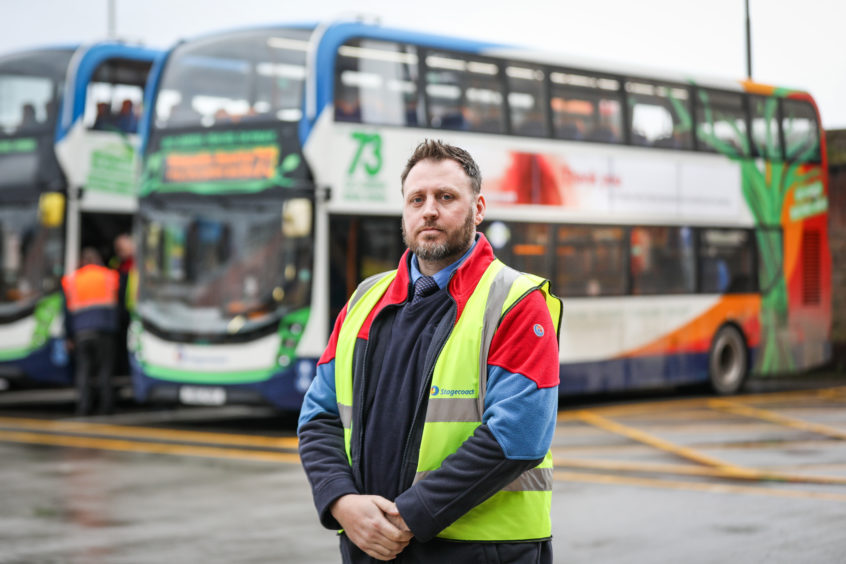 Dundee man Shane Piper may have worked in many high-skilled jobs but believes he has struck gold on the 73.
Kent-born Shane, 44, spent 13 years in the RAF before moving to Douglas six years ago to work as an IT manager. After his contract ended early he spent a year managing a bar in Dundee before seeing a job advert for a bus driver.
"I never intended for this to be my job," he says. "I always enjoyed dealing with the general public so I thought I'd give it a go.
"Having a conductor on board you can concentrate on providing a really good service and allow the driver to do what he does.
"With the 73 service with a conductor the customers will just sit down and take their seats, whereas on a normal service and the driver does the serving you're dealing with a ticket machine and checking timings for the next spot. So it does help us.
"If you're on the town service you get to know the general public and it puts a smile on their face if they get their favourite driver.
"The main goal is to keep on time, especially with the 73 when it's every 20 minutes in the morning and every 10 minutes at peak, so it's important we keep on time."
'The reason I use the 73 is because of the conductors'
If the 73 holds a special place in the hearts of those who work on it, the same could be said of the passengers who use it. Irrespective of age, background or profession, the presence of conductors is a reassuring and welcoming presence.
Jean Rae, 83, of Abbotsford Place, Dundee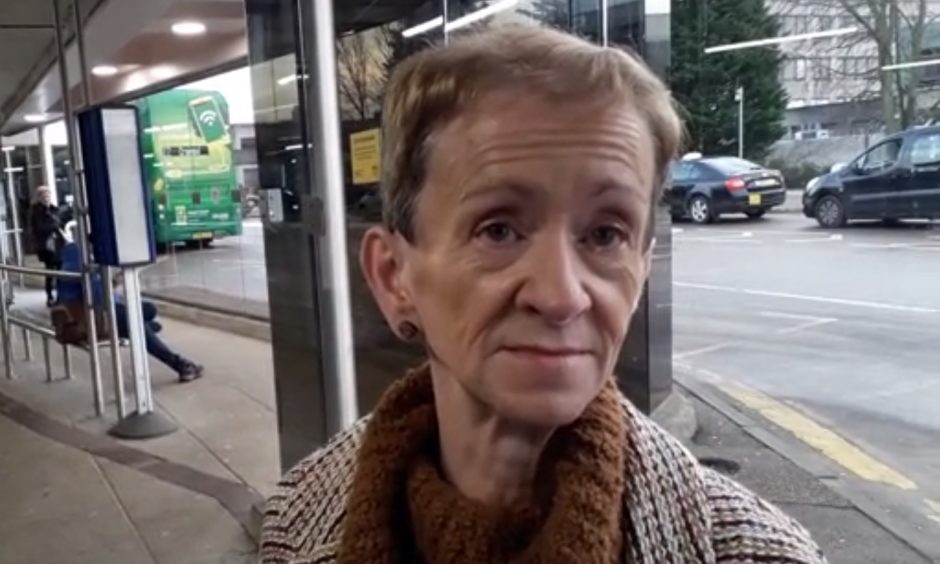 "I like the 73 bus. I find it is better because there are conductors on it. It's very important that the buses stay, especially late at night when people are travelling on their own."
"It's the only one that helps me because I am in Blackness Avenue. It's better. It's a lot quicker. People get on and when they are not queuing when you're on it it's quicker.
"It has more of a personal touch. You don't feel so panicky getting on when a conductor comes on the bus."
Lynne, 53, of the West End, Dundee
"It's a different experience. There's more communication during the journey. It's a safety issue. It's nice to know you can rely on the conductor.
"Especially with the double-decker bus, having a conductor is important. If you go upstairs someone is more easily available. Also for questions and information it's useful.
"Having a conductor provides a better quality of service. A lot of people have done away with them because they're cutting back."
Janette Reilly, 64, of St Mary's, Dundee
"I am not often on this bus but I am of an age when all the buses had conductors and it's much nicer. The bus is much nicer. I always remember them in the 1960s."
Rayne Eaton, 51, of Broughty Ferry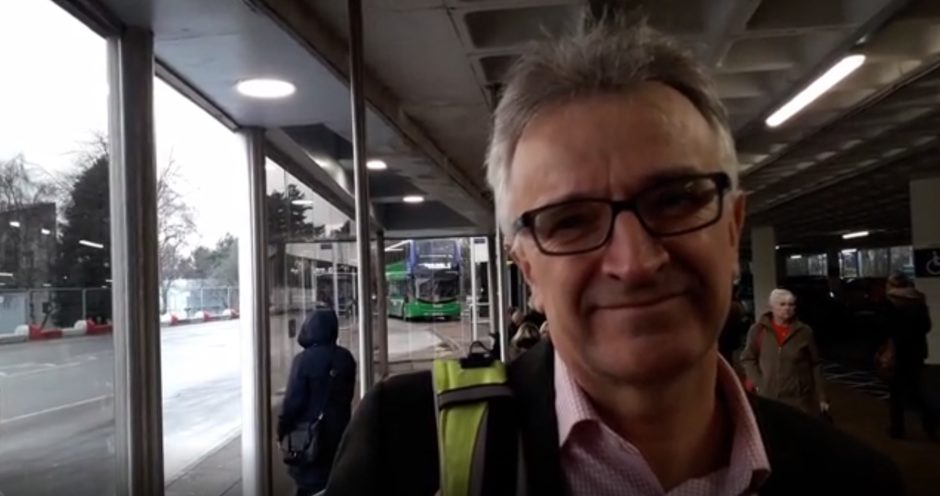 Rayne works for Dundee University and regularly takes the bus to Ninewells Hospital for the medical school.
"I use the 73 bus to commute from Ninewells to the university city campus because we are based in Ninewells mainly.
"It has a conductor so you get onto the bus quicker than if you have to pay the driver. It does work quite well so it is convenient.
"It makes it quicker and there's the personal touch with a conductor."
Owen Thomas, 22, Dundee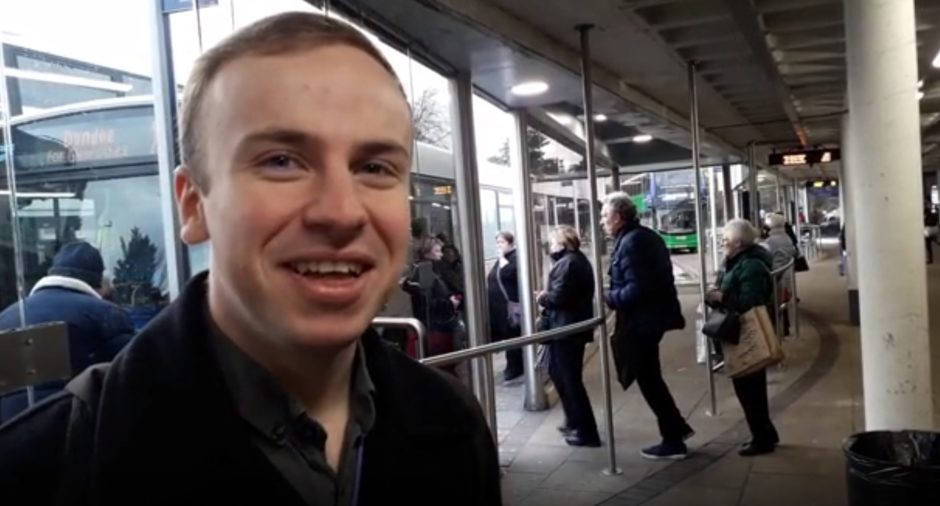 Owen Thomas is a student at Dundee University.
"It's really useful, especially in the mornings when you want to avoid the queuing of people.
"The 73 is quite busy with a lot of students using it so there are a lot of people getting on it with only a small number of stops, so having that conductor means you're not held up and it's a pretty speedy journey.
"Trains have conductors but you don't associate buses with having conductors anymore."
Emily Brown, 22, of Perth Road, Dundee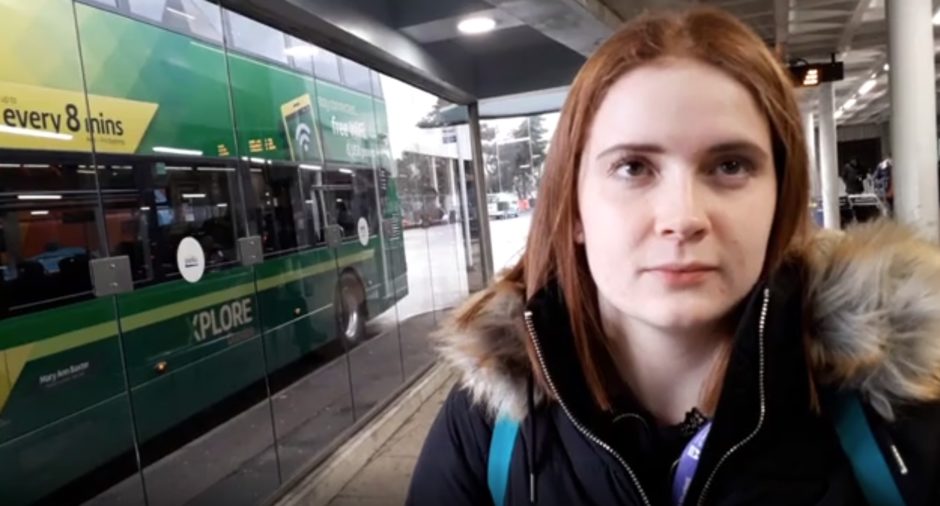 Emily Brown is a medical student at Dundee University. She lives in the Perth Road area and commutes between Ninewells Hospital and the city campus.
"With a conductor you can get change, though with other buses you have to pay the exact money.
"When you don't pay by card it's not a problem when there is a conductor. The bus is quicker and you get on quicker by not having to fumble around for change.
"The conductors are often the same people so it's good human interaction as well."
Lorna Ritchie, 38, of Menzieshill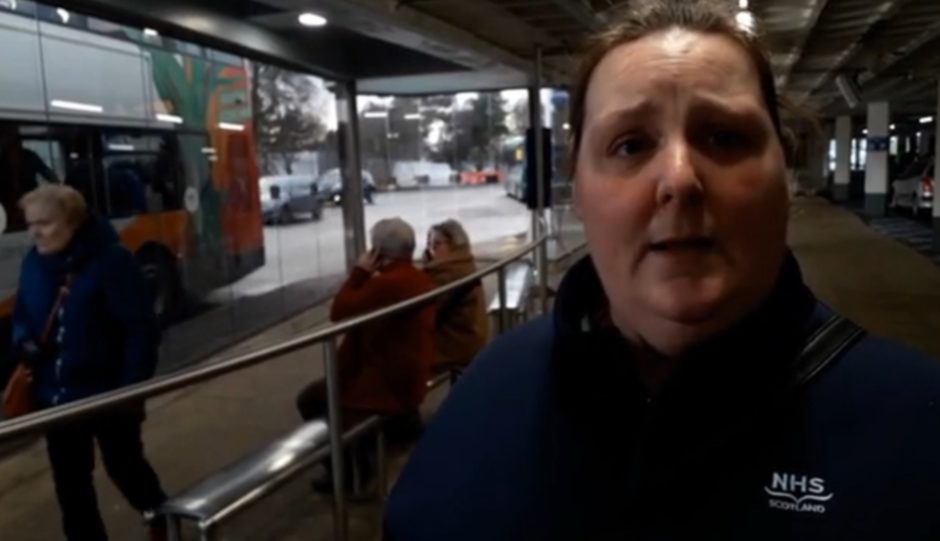 Lorna is a cleaner at Ninewells Hospital.
"I get the bus  most days. I like how you can get straight onto the bus and the conductor comes to you and it moves a lot quicker. They are really friendly. It's a nice service."
Ann Milne, from the West End, Dundee
Ann Milne works at Ninewells Hospital.
"The reason I use the 73 bus is because of the conductors. It's a more friendly service. Other buses demand exact fare only and that's not convenient.
"The organisation may be paying extra for that person but it adds value. It's  a more friendly service to the customer.
"People in Dundee like the close-knit, friendly feel to the services.
"There's something quite nice about seeing conductors helping people with the ramp. They are there for the community."
Gordon McLuckie, 62, Barnhill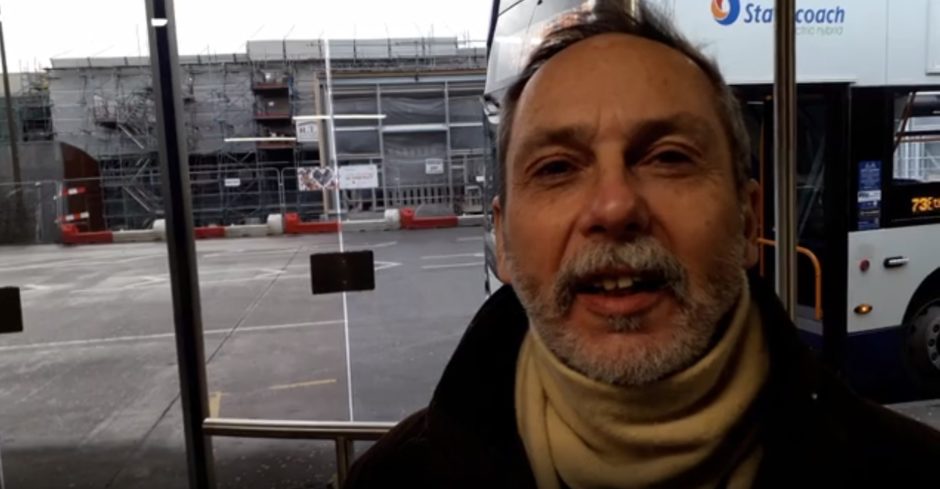 "I get the 73 most times I come into Dundee.
"I like how you can just go on and get your seat, relax and the conductor comes up. It's good.
"Certainly it's an old-fashioned community thing you don't get now. Money doesn't allow these things so it's good and makes you feel welcome.
"It would be nice to continue. It makes passengers feel welcome and feel there is someone on the bus if anything goes wrong so it's good."
Michael Robertson, 62, Carnoustie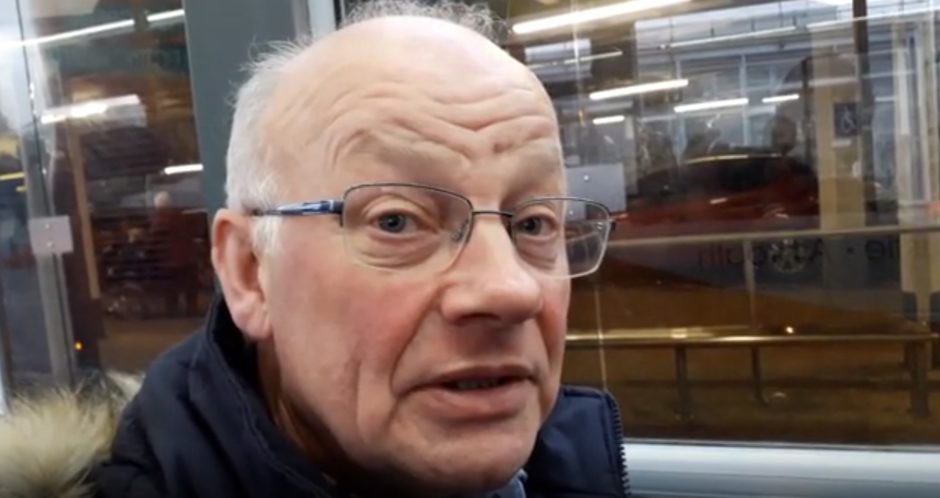 Michael Robertson is a supply teacher at Carnoustie High School.
"It's great to have a bus with a conductor because you don't have to have the correct change. The conductors are friendly.
"I had a cousin who was the last conductor on the Stirling route and that ended a long time ago. It's great they are making a comeback."
Will conductors remain on the 73?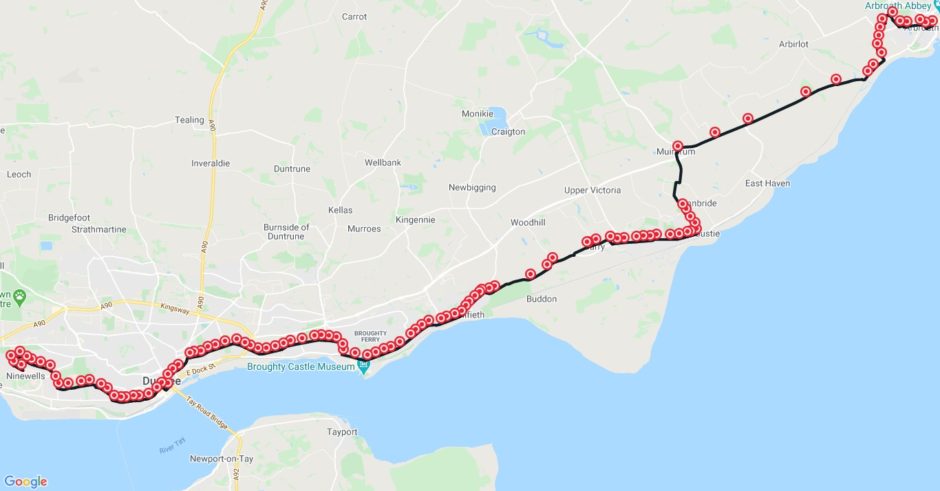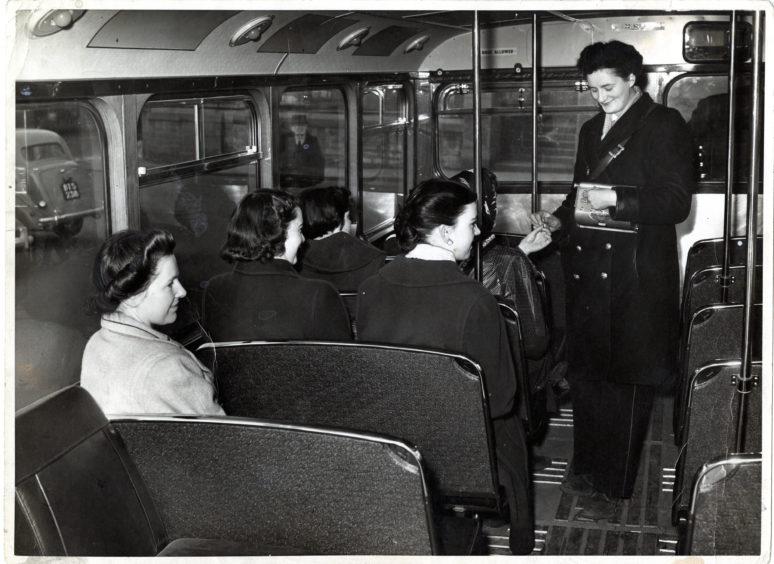 Conductors were brought back by Strathtay – Stagecoach's predecessor – in 1985 when the iconic former London Routemaster buses were introduced to the Tayway 73 route.
The 73 runs between Arbroath and Ninewells Hospital via Carnoustie, Monifieth, Broughty Ferry and Dundee city centre. It is an important form of transport for commuters, students and hospital staff and patients.
Conductors had been commonplace throughout Tayside and Fife but disappeared under public ownership in the late 1970s and early 1980s after the introduction of pay-on-entry buses in the 1960s.
The clippie ensures quicker boarding times at bus stops and faster journeys into Dundee city centre and Simon King, 38, allocation manager at the Arbroath depot, hopes they continue on the 73.
"The service is really, really busy. It has a 10-minute frequency. People are not queuing at the door. People can take a seat and it's much easier. All the conductors are friendly and get on with passengers.
"The 73 is unique because it is the only service with a conductor, certainly in Scotland and probably down as far as London. There are maybe a few services that have got conductors down there, but not many.
"We are in a privileged position. The service is really really busy. We are lucky enough that the conductors are friendly and the passengers love it because there is less time to queue at the bus stop.
"Maybe some routes don't warrant it or are busy enough for it, but every 10 minutes you are getting a bus-load coming in from Monifieth, Carnoustie and Broughty Ferry. It's busy enough to warrant it. If we didn't have conductors the service would probably run late.
"Hopefully they continue for a long, long time and hopefully the route continues to be as successful as what it is and hopefully we can generate more people to use the bus."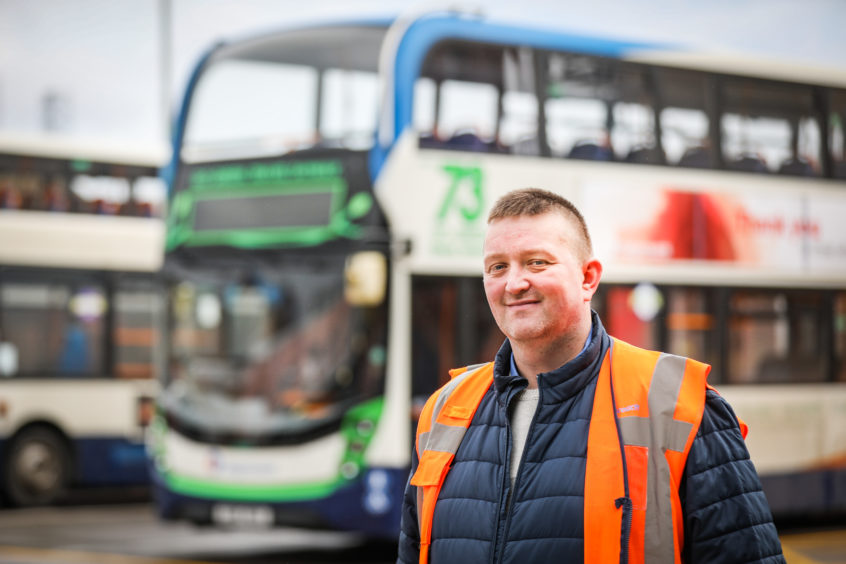 Simon began as a driver in 2005, becoming a relief controller in the Perth depot in 2013 before eventually progressing to the role of allocation manager at the Arbroath depot last year.
"The passengers are happy to have conductors on the bus. They have time to get their money out before the conductor arrives and even contactless payments now so they're sitting down comfy and they're not harassed. The driver's on their way, giving them a good standard of service on their way to town.
"The conductors are very well-liked and if anything happens on the bus or if anybody gets ill or anything like that, they are on hand to assist.
"It is the same as when there is someone disabled. The driver can get the ramp out and the conductor can make it secure before the driver moves on. They work together.
"I take my hats off to the conductors because I don't think I could go up and down the stairs 50, 60 – maybe even more times a day – than what the goes do. They are a credit to the company. They and the drivers are the face of the company.
"All the people that come on the bus see the conductor and the conductor gives them a good bit of banter and respect for the people that come on the bus. Everyone always compliments the conductor. It's good.
"A 10-minute service, especially if you have an appointment at Ninewells Hospital, is absolutely fantastic. How many services do you know that go to the hospital every 10 minutes?"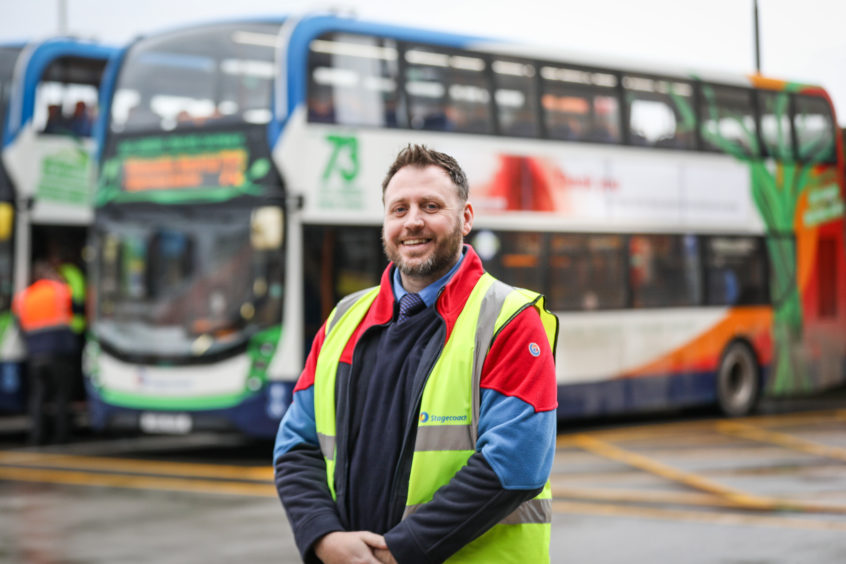 Driver Shane Piper believes providing a good service on the 73 will encourage younger generations to continue to use the bus.
"You get a variance of people from all different ages coming onto the bus," he says. And that's a good thing because when you are on the town services you find it's more older people coming on the bus.
"But it's good to see the younger folk coming on as well. Otherwise, if it wasn't for the 73 bus getting the children and schoolkids on the buses then the buses would die in the next generation."
Kelty Clippie – immortalising a Fife conductor
Conductors may no longer have a presence on buses in Fife, but a folk song immortalises the 'Kelty Clippie'.
The song, taken from John Watt and Davey Stewart's 1976 album Shores of the Forth, is a love song for a woman who was a clippie in the Kingdom.
She's just a Kelty clippie, she'll no tak' nae advice
It's Ach drap deid or Ah'll bile yer heid or Ah'll punch yer ticket twice
Her faither's jist a waster, her mither's oan the game
She's just a Kelty clippie but I love her just the same
I've traivelled thru' this country from shore to shining shore
From the swamps of Auchterderran tae the jungles o' Lochore
But in all these far-flung places there's nane that can compare
Wi' the lily of Lumphinnans, she's ma bonnie Maggie Blair
Frae the pyramids up in Kelty tae the mansions in Glencraig
We've trod the bings together in mony's the blyth stravaig
Watched the moonlight over Crosshill, trod Buckhaven's golden sand
And mony's the happy hoor we spent in Lochgelly's Happy Land
I remember on the 8.15 that night o' romantic bliss
I says, Ho Mag, nip yer fag, gie's a wee bit kiss
She didnae tak' this kindly, didnae like ma chaff
Being a contrary kind of bird she said, Come oan, get aff
She hasnae got nae culture, she drives me roon' the bend
Sittin' in her big armchair readin' the People's Friend
Her lapels are full of badges frae Butlins down at Ayr
And she goes to the bingo every night with the curlers in her hair
But things is a wee bit better noo, I've gone and got the ring
I won it frae Jim at the pitch an' toss, last night at the Lindsay Bing
Wi' her wee black hat and her ticket machine ma hairt she did ensnare
She's the lily of Lumphinnans, she's ma bonnie Maggie Blair