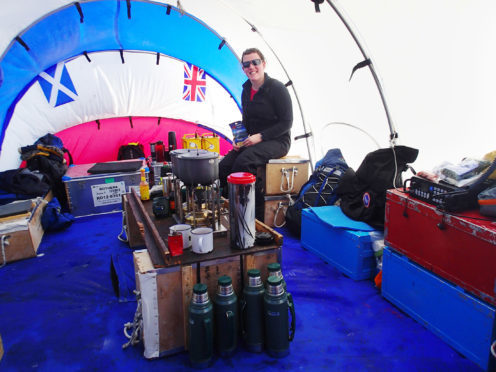 An Angus scientist is one of a team of researchers who have discovered three vast canyons in one of the last places to be explored on Earth – under the ice at the South Pole.
The project is just the latest development in Dr Kate Winter's work exploring glaciers.
It all started with a school trip to Iceland that in turn inspired her to undertake a six week exploration of Greenland during her school holidays, sponsored by local people and businesses.
She has never looked back since.
Educated at Colliston Primary School and Arbroath High School, Kate Reid as she was before her marriage went on to graduate from Aberdeen University and gained her PHD from Northumbria University.
She has previously conducted workshops at her former primary school and revealed that she has been approached to undertake more projects with local schools.
Dr Winter, 27, and colleagues' work uncovered the hidden features with radar, revealing deep troughs that run for hundreds of kilometres, cutting through tall mountains – none of which are visible at the snowy surface of the continent.
The findings are the first to emerge from the extensive ice penetrating radar data collected in Antarctica as part of the European Space Agency PolarGAP project.
Her team says the canyons play a key role in controlling the flow of ice, and if Antarctica thins, then these channels could accelerate mass towards the ocean, bringing with it the threat of further raising sea-levels.
Dr Winter said: "These troughs channel ice from the centre of the continent, taking it towards the coast.
"Therefore, if climate conditions change in Antarctica, we might expect the ice in these troughs to flow a lot faster towards the sea, and that makes them really important, and we simply didn't know they existed before now."
The biggest of the canyons is called Foundation Trough. It is over 350km long and 35km wide, the equivalent of a deep valley running between London and Manchester.
The two other troughs are equally vast. The Patuxent Trough is more than 300km long and over 15km wide, while the Offset Rift Basin is 150km long and 30km wide, which are all buried under many hundreds of metres of ice.