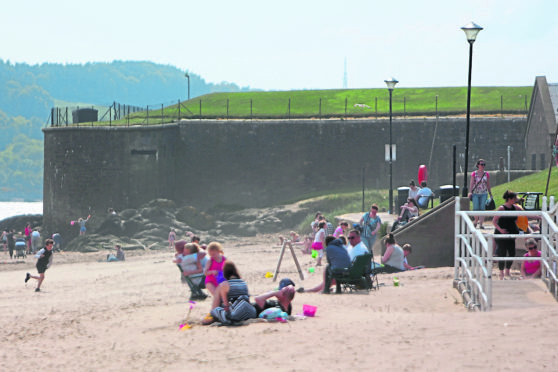 Talks are taking place to bring better wheelchair access to Broughty Ferry beach.
Councillor Craig Duncan has instigated the move following suggestions from a local resident.
It could see a new ramp installed in place of a winding and narrow path that leads to the beach.
While the promenade gives a good view of the beach and Tay, access to the sands is more difficult for wheelchair users.
The plans could also see a specialised wheelchair on hand so visitors can move on the sand.
Mr Duncan said: "I attended a meeting at Dundee House to explore ways it might be possible to give wheelchair access to Broughty Ferry's beautiful and popular sandy beach just east of the castle.
"I am very keen to see this happen."
The Liberal Democrat has outlined two possible ways to achieve the goal.
He said one is to replace the "existing inadequate" ramp at Windmill Car Park with a "wide and gently sloping" ramp.
The other is to have wheelchairs adapted  for beach use on site.
#BroughtyFerry beach – wheelchair access : https://t.co/o86f8Iep3v pic.twitter.com/o3b5hYjV1i

— Cllr Craig Duncan (@Craig4TheFerry) November 26, 2019
Mr Duncan added: "Each approach has advantages and disadvantages. Each has potential and could stand alone or run side by side.
"Council officers have been extremely helpful and have agreed to try and take forward the most fundamental measure, the building of a new ramp.
"The resident who inspired me said 'in the 21st century, nobody should be sitting in the car park like Johnny no mates as the rest of the family enjoy the beach'.
"I do hope that Dundee City Council and enthusiastic partners can work together to make this sort of access become reality."
Simon Mulholland, who runs Pony Axe S, feels the area could benefit from greater accessibility.
Pony Axe S takes disabled people to places a wheelchair can not normally access, connected to a specially designed chariot pulled by a pony.
Mr Mulholland said: "A lot of things are already at Broughty Ferry, infrastructure wise, to be more inclusive. There is a nearby car park and toilets, so it would be good to see better ramps.
"I have taken hundreds of people on to Broughty Ferry beach, but that is with my equipment.
"It might even take a couple of fit people to push a person in a chair back up that ramp.
"If an elderly person wanted to take their partner on a wheelchair to the beach, they might struggle to get them back up the ramp."
Pamis (promoting a more inclusive society) have also thrown their support behind the plans.
Jenny Miller, the local charity's chief executive, said: "To make it easier for people to get on the beach would be fantastic.
"When I see a family get on a beach for the first time together, that is a special thing.
"It is a popular beach and is a place that people can go to enjoy without spending much money, which is wonderful, so it would be good to have better access for everyone.
"We would be keen to work with the councillor on making this happen."
A council spokesman confirmed the proposals were being explored and there was some positivity towards it.