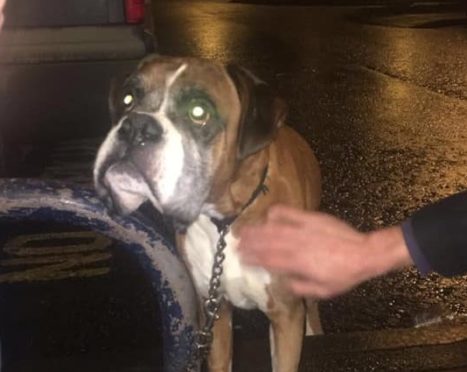 Police in Dundee have 'rescued' a dog which was left tied up after its walker reportedly suffered an epileptic seizure.
The boxer dog was discovered, tied up, outside Hayat's Premier convenience store on Happyhillock Road on Thursday evening.
Concerned members of the public appealed on social media in an attempt to trace its owners.
One concerned witness said they saw the dog being tied by its lead to a piece of street furniture at around 6.50pm.
It is believed the dog's owner had left the pet in the care of a trusted family member while they went to work.
However, the family member reportedly had to seek urgent medical attention after suffering from a seizure, meaning the dog was left at the store.
It is not known how the dog came to be tied up outside of Hayat's.
Another concerned onlooker said the male dog appeared "scared" as it had been left alone for hours.
She said: "I had heard the dog had been tied up outside of the shop so I went over to take a picture to try and get the dog help.
"He seemed quite calm, he did growl a bit when certain people tried to clap him but I think he was just scared.
"I think he had been tied up for a few hours. The poor thing seemed freezing and hungry.
"Since he was there for a while people were feeding him some treats and he was given a bowl of water.
"The police were phoned as we couldn't get through to the kennels and the police took the dog away to the kennels for the night."
Police confirmed they picked up the dog on Thursday evening and handed it over to Brown Street Kennels.
A spokesperson for the force said: "We received a report of concern for a dog outside a convenience store on Happyhillock Road, Dundee around 8.15pm on Thursday, 2 January.
"Officers attended and the dog was taken to Brown Street Kennels."
Missing Pets Dundee and Angus said the dog had now been reunited with his owner but declined to comment further.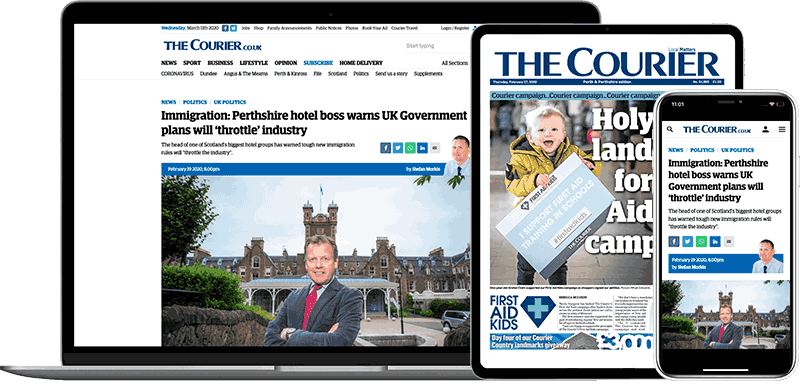 Help support quality local journalism … become a digital subscriber to The Courier
For as little as £5.99 a month you can access all of our content, including Premium articles.
Subscribe