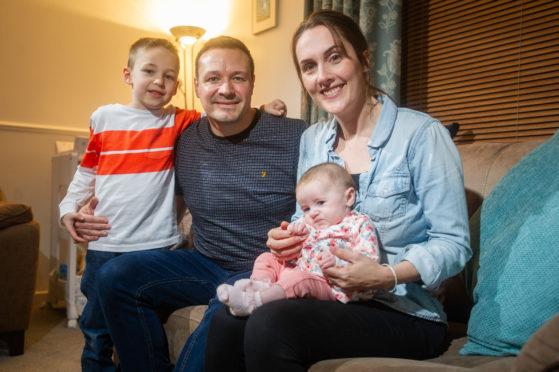 A 39-year-old mother who nearly died after suffering a stroke during childbirth has thanked the hospital staff who saved her life.
Karin Innes went into labour with her daughter Beth in October and was rushed to the labour suite in Ninewells Hospital.
She passed out during labour and began losing blood.
She was rushed away and Beth was delivered using forceps before also being taken for treatment, leaving dad Arthur, 45, with an agonising wait to find out if his new baby and wife would pull through.
Doctors worked for five hours to stop the bleeding and a scan taken after Karen woke revealed she had also suffered a stroke during the delivery.
It is believed this had been caused by an amniotic fluid embolism – amniotic fluid entering the mother's bloodstream.
Although extremely rare, amniotic fluid embolisms can have serious consequences including stroke and heart failure.
It is believed they are responsible for around 10% of maternal deaths in child birth.
Despite the severity of her condition, Karin, who works in student recruitment at Dundee University, has now made a near-complete recovery.
But she had to spend weeks in the Centre for Brain Injury Rehabilitation at Royal Victoria Hospital before she could return home on Hogmanay.
Karin said she is "extremely lucky" to still be alive and praised staff at NHS Tayside "from the cleaners to the consultants" who cared for her and baby Beth.
Karin said: "I just blacked out so don't remember anything.
"I had a massive bleed and lost about five or six pints of blood. I am so grateful to staff, I'm in awe of them all.
"They were working on me for about five hours to get the bleeding stopped and then I was in the intensive care unit for two days."
Karin said when she woke she had difficulty using her right arm and leg and spent two weeks in the stroke unit, before being transferred to Royal Victoria Hospital.
She finally got home in time for the New Year and said she has made an almost complete recovery.
Karin said: "I feel lucky to be here and I'm getting stronger every day.
"All the staff I came into contact with were absolutely amazing, from the cleaners to the consultants."
Karin added her eldest child Rhuari, six, is delighted with his new sister.
Arthur, meanwhile, has raised £1900, which the family has split between the four units where Karin and Beth were treated –  intensive care, neonatal and the  acute stroke ward at Ninewells Hospital and the Centre for Brain Injury Rehabilitation.
He set up an online fundraising page and took part int he New Year's Day Dook at Broughty Ferry to raise the money.
Senior Charge Nurse Fay Cunningham from the Stroke Unit at Ninewells Hospital said: "I would to thank Karin and Arthur for this generous donation which will be used to benefit stroke patients in the unit.
"I know that I speak for everyone who looked after Karin in the unit, that the way the family pulled together,under such difficult circumstances, was truly amazing and inspirational.
"We all became very fond of Karin and her family especially her new born baby daughter Beth who was a regular visitor.
"On behalf of all the team I would like to wish Karin, Arthur and their children Rhuari and little Beth all the best for the future."