Shock after Broughty Ferry sea wall and road collapse
Part of Broughty Ferry's sea wall collapsed yesterday, causing a large hole in the road and prompting calls for Dundee City Council to maintain the structure to a robust standard.
Douglas Terrace was currently closed to motorists after the hole, which is big enough for a person to fall through, was spotted in the early afternoon.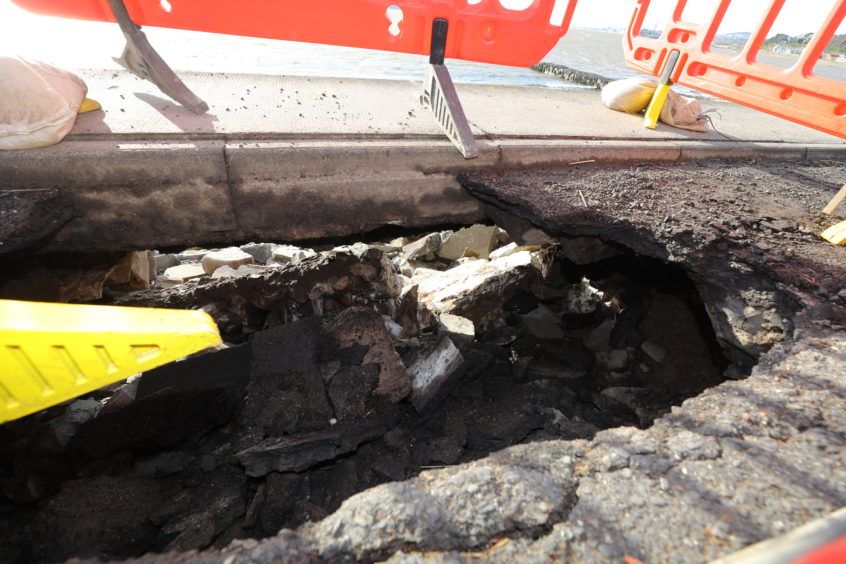 Tayside Contracts arrived shortly afterwards and cordoned off the area.
The road is expected to re-open to traffic by the end of this week.
Broughty Ferry councillor Craig Duncan said he fears there would be no time to carry out repairs before the time comes in, causing further damage.
He said: "I spotted the hole in the road by chance when I was walking past the area.
"The sea wall had collapsed and obviously the hole that resulted is dangerous.
"Douglas Terrace has been closed off west of Home Street but there isn't proper signage and cars can still squeeze through, which worries me.
"The tide is coming in so there would be enough time to repair the wall and the road permanently.
"It will be a temporary repair, which is unlikely to hold up due to the tide and the wind.
"In the spring, construction of  a brand new flood wall will begin, but I think it's important that what is currently there is maintained to a safe standard in the meantime.
"I have contacted the council to get assurances that this will be done.
"City engineers have contacted me to say that the repairs on the sea wall will be done by the end of the week."
Douglas Terrace residents said the area has suffered from flooding during storms, but that there has never been such an extensive collapse of the wall or road surface in the past.
The area was battered by strong waves, gale-force winds and heavy rain during Storm Ciara over the weekend.
Professor Stephen Partridge said: "Watching the storm on Sunday I'm not surprised to see some damage but I'm surprised it has undermined the road.
"Down at the lifeboats end, it does flood there. During a storm the waves come right over the road and right to the gardens."
A Dundee City Council Spokesperson said: "We will be assessing the damage and looking to see what repairs are necessary."