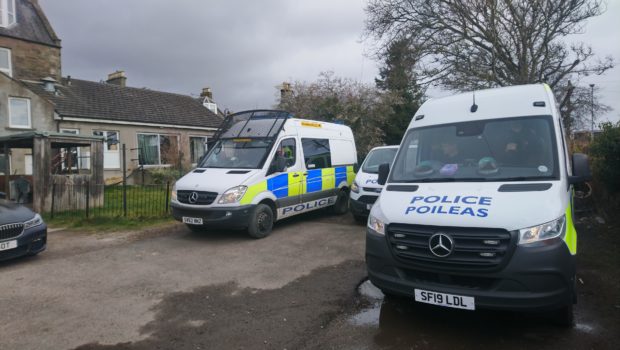 Three people have been arrested after a drugs raid on a Carnoustie property.
Officers swooped on a building on the town's High Street on Wednesday evening and a man in handcuffs was seen being led out of a property just after 5pm.
The police presence centred in an area around the Dalhousie Hotel.
Police Scotland said three people, two men aged 63 and 28, and a 26-year-old woman, were arrested following a search but later released without charge.
The force said the drugs search warrant was executed after a intelligence-led operation.
Three police vans reportedly drove slowly down the High Street on Wednesday at 5.15pm before turning down a side street.
They parked in a car park at the rear of the hotel before entering a building.
Three vans were stationed in the car park on Wednesday evening and all day yesterday with vehicles leaving and returning throughout the day.
An officer was also standing guard at the front entrance to the hotel after the raid.
One business owner on the High Street said he locked up and was walking home when he saw the vans arrive on Wednesday.
He said: "It wasn't like they raced down the street and they didn't have sirens on.
"For three vans to come at the same time, I did wonder what was going on. They obviously didn't want those inside to know they were coming.
"The High Street was quiet at the time because all the shops had just shut. That's maybe why they chose that time.
"I heard the raid was quite brutal, in that they were smashing doors in."
Another worker said he saw police vans return early on Thursday morning.
A police spokesman said: "Police Scotland can confirm two males, aged 63 and 28, and a female aged 26 have been arrested following the execution of a drugs search warrant at a business premises on High Street, Carnoustie, and have been released pending further inquiries.
"Inquiries are ongoing."
According to locals, the hotel does not have regular opening hours and only welcomes customers "sporadically". It has been up for sale for some time.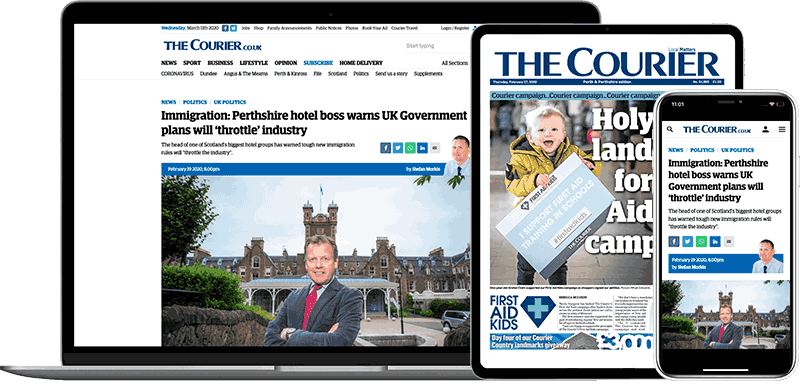 Help support quality local journalism … become a digital subscriber to The Courier
For as little as £5.99 a month you can access all of our content, including Premium articles.
Subscribe