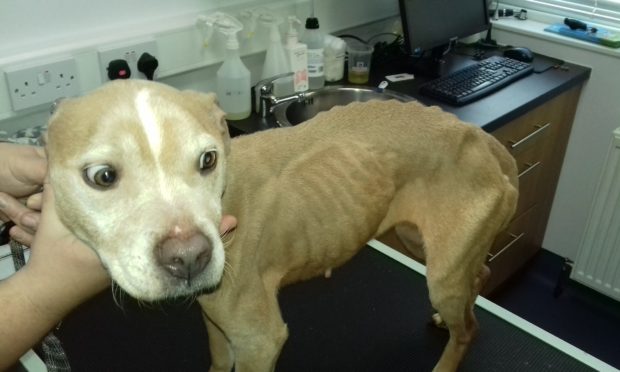 A Dundee man has been banned from keeping animals for two years after leaving his dog to starve in squalid conditions, causing it to lose half its bodyweight.
Justin Williams has also been ordered to pay £250 to the Scottish SPCA, which saved the animal and restored it to health after being alerted to its plight.
The 24-year-old caused the dog, named Keira, to become "severely emaciated" over a three-month period at his home in Lochee last year.
The alarm was raised by neighbours who became concerned about the health of the dog, which weighted only 9.5kg and had overgrown toenails due to lack of exercise.
Prosecutor Lynne Mannion told Dundee Sheriff Court: "The employees of the SSPCA saw that the flat itself was in squalor.
"The hallway had bare floorboards and a dirty dog bowl.
"The dog was clearly emaciated."
There were no other abnormalities found during the examination and the Scottish SPCA officers concluded that Keira's issues were due to inadequate nutrition.
The dog was taken to the charity's base at Petterden and Williams was later charged.
Williams, who represented himself in court, pled guilty to causing the dog unnecessary suffering between August 3 and November 13 at an address on Craigowan Road by failing to provide it with appropriate care and treatment, failing to provide it with adequate nutrition and failing to seek vet advice for conditions including emaciation, reduced muscle mess, anaemia and overgrown nails.
Sheriff Jillian Martin-Brown said Williams' background report showed he was "very remorseful" for neglecting his pet.
Scottish SPCA inspector Alastair Adams said: "We are pleased Williams has been handed a ban for this level of neglect.
"When we attended we discovered Keira to be underweight and in poor body condition.
"This was a case of serious neglect and Keira would not have survived for much longer had we not intervened.
"Thankfully, Keira made a tremendous recovery in our care and we were able to find her a loving new home.
"We welcome this sentence. Williams was not capable of meeting Keira's most basic of needs.
"We hope this sentence makes Williams consider his ability to look after any animal in the future.
"If anyone suspects an animal has been neglected or abandoned they should call our confidential animal helpline on 03000 999 999."