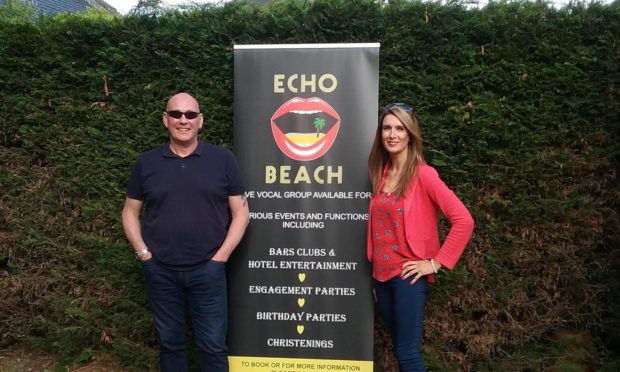 A Dundee musical duo are supporting a youth mental health charity with a 10-hour online concert this weekend.
Paul McGregor and Elaine Carlin, who make up Echo Beach, wanted to do something to help after hearing about many young people struggling during lockdown and decided to put their talents to good use.
It is a cause close to Paul's heart as his son Reece McGregor, died at the age of 24 after struggling with bipolar disorder for most of his life.
The pair will take to the virtual stage on Saturday, along with 13 other acts, in aid of Dundee-based Feeling Strong.
Paul said: "We started talking about it at the height of lockdown because we wanted to do something help.
"We have taken part in a few live broadcasts on various lockdown music pages.
"We wanted to organise one ourselves and thought long and hard about who would benefit from it.
"There has been a lot of publicity recently about young people having mental health difficulties, specifically during lockdown, we wanted to support a mental health charity and Feeling Strong jumped out.
"A lot of it was down to the fact that my youngest son had bipolar disorder for most of his life until he unfortunately lost his life in January 2017.
"We thought it would be apt and very personal to support a mental health charity."
Reece was found dead just weeks after settling down in England to start a new life.
The former Grove Academy pupil died suddenly at his home in Rugby, Warwickshire, after leaving Dundee to pursue his passion for music.
He was the latest in a string of musicians in his family, following in the footsteps of his father, Paul, and uncle, the late Billy MacKenzie — frontman of renowned Dundee band The Associates.
As a primary school teacher, Elaine also wanted to help youth mental health initiatives.
She said: "I see first hand every day the effects that a lack of mental health and wellbeing [support] have on our children.
"It is heart breaking. Paul and I wanted to give something back after all the wonderful opportunities we have been given and all the support we continue to have, so with mental health being so close to Paul's heart and my passion for helping children we decided to create a fundraiser for Feeling Strong."
Saturday's event will be livestreamed on the "Echo Beach's fundraiser for Feeling Strong" Facebook group.
Online donations can be made as bands and singers perform.
Starting at noon, the line up features Rachel-Ann Stroud, Erse Fae Elbow, Lianne & Mia, Tam Barr, Sean Findlay, Chris Boggie, Demi McMahon, Jay Salazer, Ross Smith, Alan Morgan, Ben Carscadden, Debz Patterson and Dudz.
Elaine added: "We would love to see as many people in the group as possible to help us support each and every act and hopefully leave a donation, no matter how small.
"Every little amount goes towards creating opportunities for and changing our young people's lives."