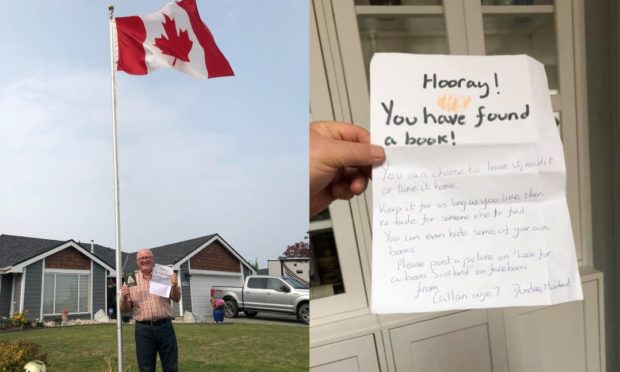 A book hidden by a Dundee schoolboy as part of a social media game a year ago has gone on a 5,000 mile journey after it was found by a Canadian Mountie.
Michael Dally found the copy of Beatrix Potter's The Tailor of Gloucester while he was on a three-month holiday to visit his elder daughter.
It was hidden last September by Callan Miller as part of the Look for a Book Scotland Facebook game.
Michael took the book back to his home on Vancouver Island, Canada and plans to ask a friend to hide it in San Carlos, Mexico – more than 5,000 miles from where it was originally hidden, at Grewar's Farm Shop outside Birkhill.
His other daughter Cat was able to connect with Callan's mum Lisa Dickson to let him know the book had been found.
Michael, 57, who was born in Glasgow, said he was visiting his daughter Hannah and her husband David when he noticed the book in some bushes on the walk back from their weekly visit to Grewars.
He said: "Inside the Ziplock bag with the book was a note from Callan asking if you find it to post it to the Facebook page Look for a Book Scotland. I don't have any social media so I asked my daughter Cat to do that for me because I knew the wee fella would be looking to see if anyone found his book.
"I was genuinely excited to find the book.  Being a police officer in Youth and Community Policing I know how important it would be for Callan to know his book had been found and not only found but found by a guy who was going to take it to Canada and pass it on from there."
Michael added: "Things like this are really big in young people's lives it's so important to show them that they are valuable parts of our communities and can be difference makers in their own way.
"Callan's selfless generosity has crossed the world his kindness thoughtfulness and spirit of adventure has created joy and happiness for strangers and nothing in these difficult times is more important than that."
The book is currently on its way to San Carlos, Mexico, where a friend is going to hide it and see what happens next.
Callan's mum Lisa said the eight year old was "ecstatic" to learn that his book had made it across the Atlantic.
She said: "It was hidden almost a year ago. We originally found a book at the Birkhill play park over the summer so we re-hid that and then hid some other books.
"People were tagging me in the Facebook post (put up by Michael's daughter) asking if it was my Callan. We were really surprised to see it as it had been so long.
"Callan was ecstatic and the kids have now set up a Facebook group to try and keep track of its world travels."
Callan, a P4 pupil at Birkhill primary, added: "I was really happy that someone had found it. I was surprised that it had made it all the way to Canada as I didn't think someone from another country would find it."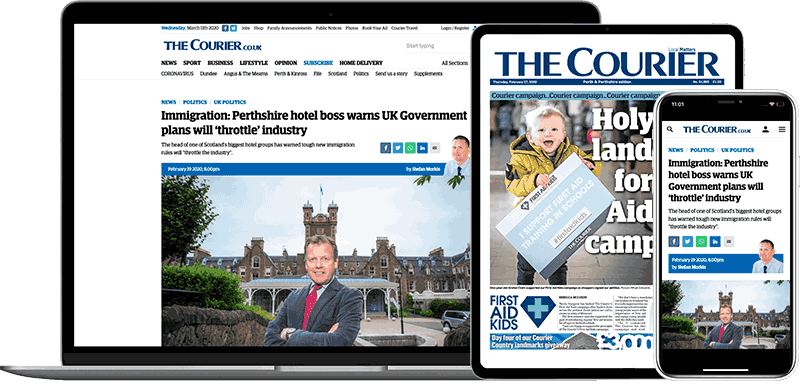 Help support quality local journalism … become a digital subscriber to The Courier
For as little as £5.99 a month you can access all of our content, including Premium articles.
Subscribe