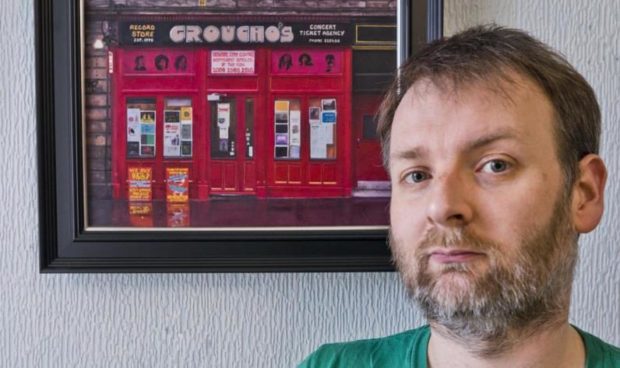 A tribute to Dundee's famous record store Groucho's is set to raise funds for a cancer charity when it is sold at fundraising auction.
The piece by Alex Dewars, originally from Arbroath, shows the shop front at the Nethergate.
The painting is part of this year's Macmillan Art Show, which aims to raise thousands for the cancer charity. The exhibition is being displayed digitally in 2020 because of coronavirus.
There was heartbreak in Dundee earlier this year when the legendary music shop officially closed after decades of trading in the city.
Alex painted the store early last year and completed it just before hearing about the death of Groucho's owner and founder Alastair 'Breeks' Brodie.
Legendary Dundee record store Groucho's officially closes as stock cleared from shop
Alex, who studied at Duncan of Jordanstone College of Art and Design, was a regular visitor to the shop when he lived in Dundee from 1999 to 2003.
He said: "I was in there at least weekly, sometimes daily. It was a great place.
"I was lucky that I had a part-time job while I was studying so I could go to buy things. A lot of my friends from the time would go to Groucho's to sell their collections to get money.
"I think a lot of people wouldn't have made it to second year at university if it wasn't for Groucho's. It was sad to hear about the shop closing."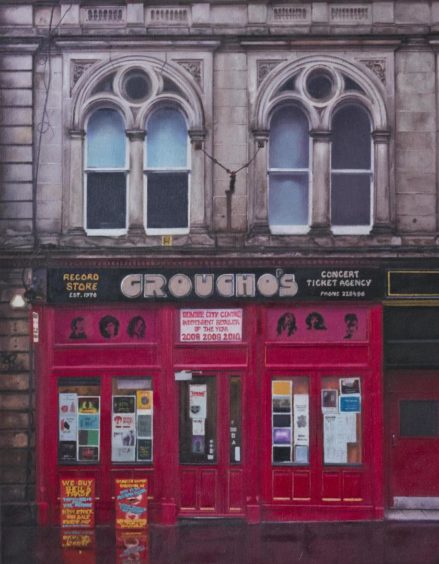 Alex has lived in Edinburgh for about 12 years. He has contributed painting for the annual Macmillan Art Show for the last few years.
He added: "I have been to the show's opening in previous years and it's a great event. It's a shame it's only digital this year, but so many things have been.
"It's all for a good cause so I hope a decent amount of money is raised."
The 39-year old has painted a series of shop fronts and buildings in Edinburgh, but the Groucho's depiction marks his first foray into Dundee.
Tributes paid as Alastair 'Breeks' Brodie, owner of iconic Dundee record store Groucho's, dies
"Groucho's was literally the first thing I thought of when I decided to do a Dundee one.
"I do about one or two of the building paintings a year and I will probably do other ones in Dundee and the surrounding areas."
Alex's other work includes portraiture and figurative paintings.
Alex is no stranger to the art scene in Dundee and has previous work exhibited in the now defunct Orchar gallery, which was on Commercial Street.
More than 180 pieces of art will feature at the Macmillan show this year with an estimated combined value of £67,000. At least half of the cash raised will be donated to Macmillan Cancer Support.
To view the digital show visit the Macmillan website, which is live throughout November.
'He believed in love and kindness' – Christmas memories of Groucho's legend Alastair 'Breeks' Brodie