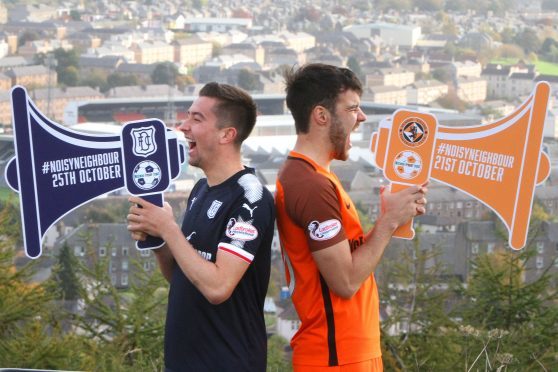 Who has the loudest fans – Dundee or Dundee United?
The question will be settled when the clubs test the decibel levels at their grounds this month.
McEwan Fraser Legal, main sponsors of both clubs, will record the roar that each support makes as part of their #NoisyNeighbour showdown.
Placing a decibel meter at the loudest part of both Dens Park and Tannadice, the respective crowds will be asked to make as much noise as possible to determine who can create the greatest roar.
United's test will take place when they host Inverness Caledonian Thistle on October 21, and Dundee will have their turn against Motherwell on October 25. All four teams are sponsored by the estate agents. Both tests will take place just before kick-off.
Unsurprisingly, players from both teams are confident their fans can win the contest.
Dundee's Cammy Kerr said: "Without a doubt, I think our fans are definitely louder. Our fans are extremely loud when they try. If you hear the crowd shouting it gives you that extra few yards on the pitch.
"It can instil some fear in the other teams, and if you hear your team being the loudest when you're playing away that can really spur you on."
Dundee United's Scott Fraser said: "I'm going to say United have got to be the loudest.
"I remember when we beat Hibs 1-0 at home last season, that was a sell-out game and the support really was a 12th man for us. A lot of the time the support don't realise how much they can lift us that way.
"Some players in the other teams we play aren't used to the level of support we can have and that works out for us."
Dundee's average attendance so far this season so is 6,635 and United's is 3,910. United's is down on last season's average attendance of 6,587 and Dundee's rose slightly from 5,925.
Ken McEwan, chief executive at McEwan Fraser Legal, said: "We're proud to support both Dundee and Dundee United, and we want to allow the fans a chance to show us who can create the biggest racket and be crowned noisiest neighbour."