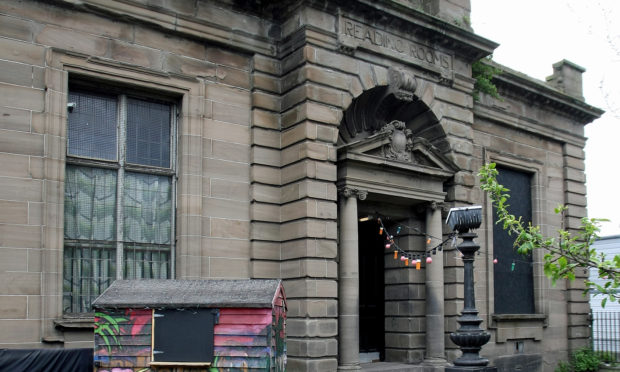 An internationally renowned Dundee club is in line for a revamp.
The Reading Rooms' operators Grant and Jim Grieve, in collaboration with the building's owners Blackscroft Property, have begun moves to increase day
and special events use as part of a "significant investment" in the venue.
Proposals include refurbishing the garden area to create the "best ambient-leisure garden in Dundee" for daytime use, complete with a barbecue space in a "redundant" library book storage area.
The bar area has already been moved to increase capacity and freedom of movement, with a commercial kitchen installed to serve breakfast and brunch to the public in the near future, licence application permitting.

It comes after the venue was referenced as one of Dundee's top attractions by the Wall Street Journal, which named the city the fifth-best destination to visit in the world in 2018.
The nightclub regularly attracts the world's top DJs and musicians.
As part of the work there are also plans for a new sound system to be installed next spring.
The Reading Rooms is a B-listed building designed by Dundee architect James Thomson.
Director of Blackscroft Property Derek Souter said the garden area has "fantastic potential", adding that the Grieve brothers want to get the most of the "labyrinth of a building".
He added: "A significant investment is being made in the Reading Rooms with the support of owners Blackscroft Property, and the first visible signs of this has seen an internal reconfiguration with the bar relocated, which improves access and increases capacity but has also seen an internal commercial kitchen installed.
"The next investment will see the extensive garden area refurbished to include an integral barbecue set-up, supported by a prep area, which will make use of previously redundant library book storage area," he said.
"Plans to replace the windows and refurbish the external stonework are being worked upon."
Mr Souter said the success of the "legendary" Reading Rooms showed "how Dundee vision and determination can succeed outwith the defined 'mainstream' or as part of Dundee's waterfront, west end or its universities".
He added: "The Reading Rooms, with its cool industrial interiors, is a leading light in Scotland's underground club scene.
"There are very few places like it in Dundee.
"The guys are both Dundee born and bred, but importantly have never, ever been accepted in the mainstream.
"These guys have got an absolutely stellar reputation.
"They get proper DJs from all over the world."