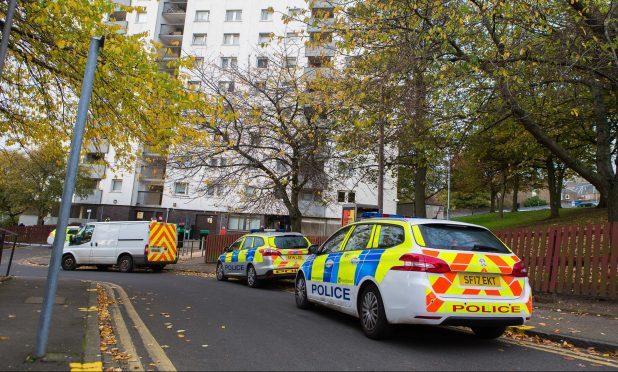 The death of a man who fell from a Dundee multi is being treated as "unexplained" by police.
Emergency services were scrambled to Dallfield Court in the Hilltown just after 8am yesterday after the man fell from the ninth floor.
Officers are probing the circumstances, which are not believed to be "obviously suspicious".
Police were seen taking pictures from the ninth floor of the building.  An ambulance was also called to the scene.
One eyewitness, who saw police racing to Dallfield Court, said: "I was making my way to work and I saw a van and three police cars with lights on.
"They were heading southbound along Strathmartine Road — the vehicles went through red lights and the traffic had to stop.
"I thought that something pretty bad must have happened — the police response looked pretty urgent."
Dallfield Court resident Tom Piekarz, 41, said police had been at the scene since 8.30am.
He said: "I'm not sure what happened but it looked quite serious given the police had cordoned off the area.
"I've lived here for seven years and it isn't unusual to see the police here but it looks particularly serious this time."
Gillian Webster, 45, who lives in neighbouring Tulloch Court, said she heard police sirens around 8.10am.
She said: "When I heard the sirens I looked out of the window. I saw the police and one of the caretakers standing outside.
"I texted a friend who lives in that block and they said it was a man who had fallen.
"It's absolutely heartbreaking that someone has lost their life."
Another resident said there were four or five police cars at the scene.
He added: "I live in the neighbouring block and saw the ambulance there this morning.
"When I looked over to about the ninth floor of Dallfield Court you could see police officers taking pictures on the balcony."