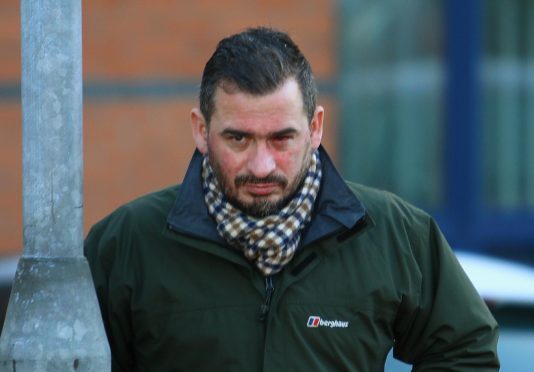 A Dundee man who was sacked while on sick leave following "horrendous" personal tragedies has been treated with "total contempt" by his employer, his solicitor has claimed.
The allegation was made on the final day of an employment tribunal in the city which heard Stan Reid was dismissed by the Michelin Tyre Company because bosses believed he had gone to a gin festival in Glasgow while he was absent from work.
Mr Reid, a production worker at the firm's Dundee factory, was off sick with stress after his best friend's son went missing and two of his friends were brutally murdered.
Mr Reid played a major role in the search effort for 18-year-old Ralph Smith who had fallen off cliffs in Arbroath. He had known the teenager since birth.
His friends Julie McCash and David Sorrie were killed by Robert Stratton following a vigil at the teenager's family home in Whitfield later that night.
A month later, Ralph's death was confirmed after his body washed up on the town's Victoria Park.
During the period he was off sick, Mr Reid was sacked for gross misconduct after the company was alerted to a Facebook post which suggested he was drinking at the tasting event in Glasgow with his girlfriend.
Solicitor Ryan Russell, said managers had acted like "robots" in the disciplinary process.
He said: "They beat him with a stick. He was treated with total contempt from the very start.
"They did the opposite of supporting him in what was a horrendous time and the worst moment in his life."
Mr Reid said he was told he would be given the opportunity to argue his case at a follow-up meeting after a joint disciplinary committee (JDC) unanimously ruled he had fraudulently claimed sick pay.
However at the meeting, with another manager, Stuart Duncan, he said he was sacked before uttering a word.
In his closing statement, the company's solicitor Stefan Lewinski said Mr Reid's sick line was not sufficient proof of his illness at the time.
He said: "Of course he will maintain that it (the gin festival) was for his benefit. To this day, there is no evidence this was an appropriate and necessary event.
"The medical evidence is of no use whatsoever as it was back-dated."
Following the conclusion of the case, Mr Reid said it had been a "long time coming."
He said: "I'm delighted that it's the end of the case.
"This has been hanging over me and my family for quite some time.
"I would hope that anybody suffering from mental health issues is dealt with by their employers in a sympathetic manner."
A decision is expected to be made on the case, heard by Peter Wallington QC, within the next few months.