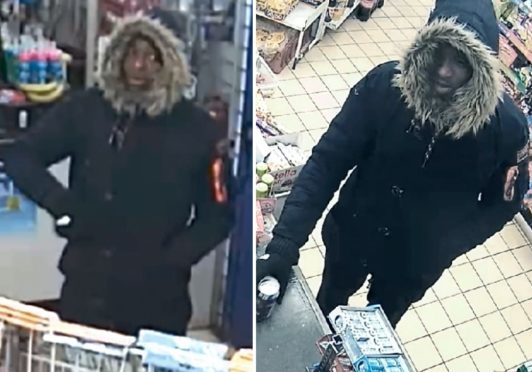 Police have released CCTV images of a man wanted in connection with a robbery in Blackness Road last week.
The incident took place at Blackness News at around 8.15pm on Friday, February 9.
A man presented a knife to the shop assistant and then stole some money before making off. He was last seen running into Rosefield Place. The employee was not injured during the ordeal.
Police enquiries have shown that the man was standing  at the junction of Blackness Road and Blackness Street for a "significant period" before committing the robbery.
Police have now released CCTV footage of a man in the shop and are keen to make contact with him in relation to their enquiries.
The man is described as black, slim build aged between 20-30. He is said to be 5'11 in height and was wearing a thigh length, navy jacket with light coloured fur around the hood, black gloves with a white logo on the rear of each glove, dark slim fit trousers and black trainers.
It is thought he spoke fluent English with an African accent.
Paul Murphy, owner of Balgay Hill Bar which is across the road, spoke about the dramatic moment six police vehicles descended upon the newsagents.
He said: "I was working as usual and the first I heard of it was when an alarm went off.
"I thought it was just a car alarm, but then I saw the police arriving. There were about five or six vans and cars. Next minute, some officers were running down a side street.
"I didn't see the actual robbery happening, but I was shocked as it's quite rare for something like this to happen here. There usually isn't much trouble."
Shortly after the crime, Detective Constable Andrew Howe said: "This was a very frightening experience for the shopkeeper, although gladly he has not been injured as a result of the male's actions.
"I am appealing for anybody within the community who has any information about this crime or knows the identity of the male to contact the police straight away."
Police have asked anyone with information to contact them on 101, quoting CR/3304/18. Anonymous calls can be made to Crimestoppers on 0800 555111.